Loox Slim Surface Mount LED Lights
Click or Tap the orange menu button to view all Hafele page links
Slim Height LED Lights that look Recessed Mounted
One of the greatest challenges we have had over the last few years is offering a replacement light to fit inside the same recessed hole. When halogen lights were still being produced, we could offer the exact same light as a replacement. Such an easy fix at the time. When an LED light was discontinued and someone needed a replacement, many times there was something else that would fit. And many times not. And now most halogen are gone too.
We have a lot of customers who come to us who need just one or two replacement lights, and sometimes we have to disappoint. Which we do not like doing. So on this web page, we will show 2 very low rise LED lights. Both are only 6mm tall, which is 1/4". They give the impression of being a recessed light. Thery are VERY large compared to most under cabinet lights, and that could be a good thing. If you have a 3" hole or a 4" hole and you are trying to find something to fit inside it and cannot, well, these two larger lights can be mounted right over that hole and hide it as if it was never there.
The lights come in a round shape or square shape. The lights on this page do not necessarily have to be used for just retrofitting. If doing a new installation and you would like low rise surface mounted lights, these are great. Our opening paragraphs are just to help customers who have holes bored, who cannot find a light of the right size, and who need a solution. But for a new install, order as many lights and LED power drivers as you like and brighten up that kitchen or bathroom. Model 3023 and 3025 would be awesome under overhangs on kitchen islands and breakfast bars. They would light it up quite well and still look very stylish. And not have the normal 3/4" to 1" drop down that traditional surface mount lights have had.
Models 3023 and 3025 are Loox4 lights, and thus have Loox4 connection ends.
Manufacturer: Hafele
Hafele 833.77.130 Loox LED model 3023, 24 V, 4.8 W, warm white 3000K, 362 lumen, surface mount with recessed look, 180x6mm (7-3/32" dia.) overall, silver finish
ALSO:
HAF-833.77.131 (4000K cool white, 408 lumen)
Add
Manufacturer: Hafele
Hafele 833.77.120 Loox LED model 3025, 24 V, 5.8 W, warm white 3000K, 430 lumen, surface mount with recessed look, 205x205x6mm (8-1/16" square) overall, silver finish
ALSO:
HAF-833.77.121 (4000K cool white, 530 lumen)
Add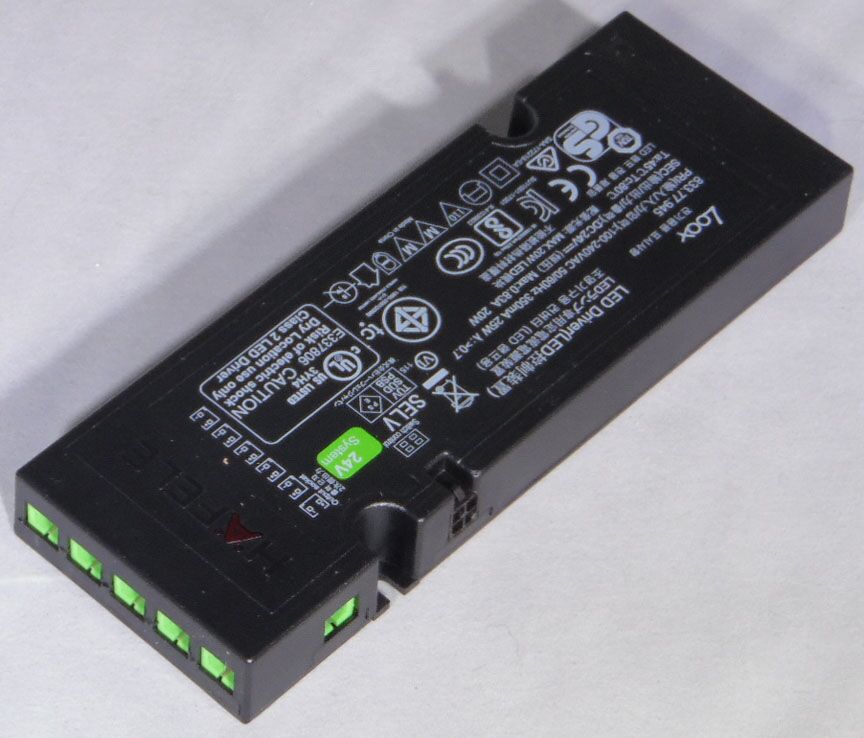 Hafele LED Power Drivers and Switching Accessories
Hafele 833.77.945 Loox LED 24V driver, 0-20 watts, 6 green ports, 140x50x16mm, black plastic casing.
(5 LEFT in stock as of Oct 2023.)
When they run out, you will use the NEW 20 watt driver and distributor combination shown on our new 24V drivers and distributors web page.
Add
Each light has a silver color ring, which are removeable. Click on the light picture to view our expanded pictures of the light. There are hidden metal flanges under those rings for screw mounting of the light. Then the rings snap back on to hide the mounting ring. Expanded pictures of the large round light show this. All the silver color rings are plastic for all lights.
For retrofitting over old holes, pretty much the same instructions about the lights and drivers. No need to patch your old holes, the lights will cover them over.
Ordering note:
For new installations, order the number of lights that you need. Decide how you wish to control them: all together or divided into separately controlled zones. Add up your wattage, or wattages per zone. And order the appropriate size and number of LED power drivers that you need. Additional a
ccessories:
Loox4 LED power driver choices
|
Loox5 24V Drivers and Distributors
|
Dimming Accessories
|
Loox4 Extension Cables
. Lights are plug and play installation into the drivers, very simple installation. The wattage for each light are listed above beside each picture.
If you have any questions prior to ordering, please call or
e-mail us
. Since these lights are still Loox4, older connections, we are showing the 20 watt older Loox4 driver on this page which WE STILL have some in stock. Makes things easier.
Hafele Loox5 and Loox4 LED Lighting web page links:
Older Loox4 24v spotlights:
Model 3038