Edenroc-LED Adjustable Headboard Light
Hera Lighting section index
Value Engineered Flexarm Edenroc LED Spotlight
Ideal as a reading light for headboards. The flexible arm Edenroc light allows an exact direction of the 1 watt LED light as to not disturb the person next to you. This is a high power LED light that does not emit any heat or UV radiation. As a light for product displays, you can illuminate the most sensitive of products without causing any harm, such as fading, or heat damage. You may have seen this light if you have stayed overnight in a Holiday Inn. The Edenroc-LED has been a popular light for hotel applications, and in homes across America.
Product Features:
Highly energy efficient using only 1 watt

Flexarm is 18" long and fully adjustable

Beautiful stainless steel finish on head, flexarm, and base

Available in 5000K (CW) only (the old warm white has been discontinued)

Efficacy: 60-80 lm/W

CRI > 75

Mounting base has integrated on/off switch

350 mA LED driver with 60" connecting cable included

Size of driver: 25mm deep, 48mm long, 38mm wide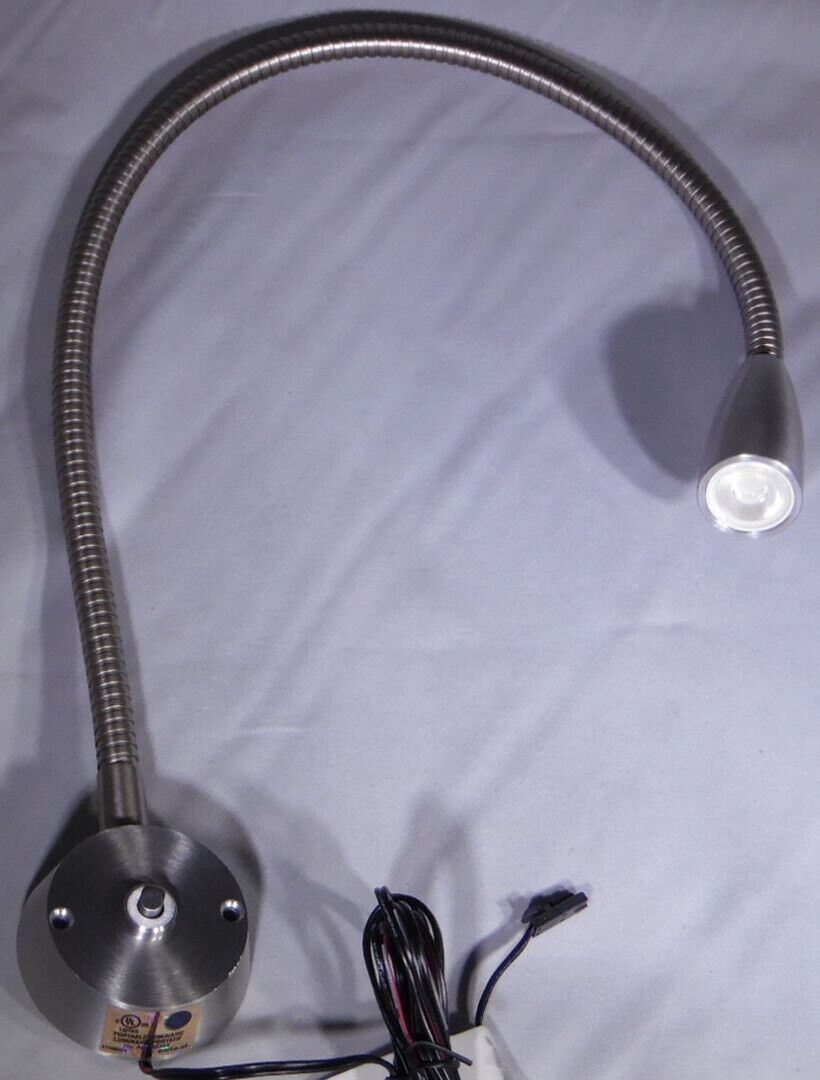 Manufacturer: Hera Lighting
Hera EDENROC/CW/VE/HI FlexVE-LED Edenroc light, 18'' long flex arm, 60'' connecting cable, 1-watt high power LED, stainless steel finish, on/off switch in base, comes with its own LED power driver, cool white
(We keep several dozen in our stock for quick shipments.)
Add
Ordering Note:
The Edenroc-LED comes as a kit, the light with its own LED power driver. There is no need to order a separate LED power driver.
The Edenroc-LED light has more uses than just a headboard light. It is a hands free focused spotlight, placing a beam of light in a small area where you want to pinpoint it. Keep from disturbing others when overhead or full room lights cannot be used. The base of the Edenroc-LED light is designed to be mounted on vertical surfaces by means of two screws. The on/off push button switch is centered in the base. The base can also mount to horizontal surfaces if you like, and the flexarm can flex any direction you need it.
If you would like to use this light as a desk lamp, you can. It is not going to be a bright desk lamp that illuminates the entire surface of your desk, it is more of a personal light to throw light into your immediate workspace. It can light up your keyboard and mouse area, reflect some light up toward your computer monitor, or light up a roll out tray. A personal small space light, again to keep from disturbing others. So if your desk is in a room by itself, sure get a big lamp and light up the room. But if you have a niche desk in the bedroom and want a private, non-disturbing light, the Edenroc-LED is ideal. And if you fall asleep and leave the light on, well you are only burning 1 watt of electricity per hour. You could leave this light on for a month and not know it on your electric bill.
When used as a display light, you can place focused light on small statues, trophies, and other objects. It is an accent light and meant to light a small space.
Specifications for the Edenroc-LED light are shown below: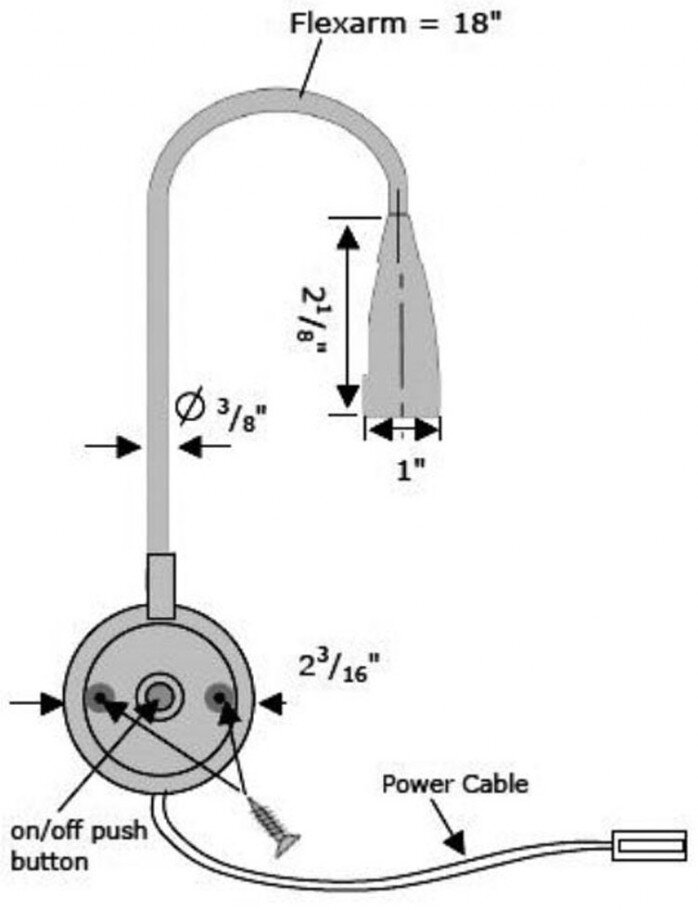 The Edenroc light is available in cool white only. The warm white version was discontinued years ago.
This light is very popular in Holiday Inns and Holiday Inn Express.
Hera Lighting summary of cabinet and display light types: