ER-LED Economy LED Lights
Hera Lighting section index
Affordable Quality Surface Mount LED Spotlights
The ER-LED is an economically priced LED accent light. It is just 1.2 watts and best suited where levels of low lighting is desired. A light or bank of lights you leave on for ambient lighting to just show things off with a subtle touch. Or to light pathways through your home or office environment. When used with several in the same cabinet bank or shelf, the light output will appear greater. Best to consider this light more so as mood lighting.
Product Features:
Extremely energy efficient at 1.2 watts each

Flat dimensions: ER-LED height 5/16" (it almost looks recessed)
Available in 3000K warm white and 4100K cool white

Stainless Steel finish

Estimated 30,000 hours of useable life

Efficacy: 58 lm/W, CRI >90
Approved for use in closet applications
Attached 98" connecting lead with plug and play connector
To be used with PS24V constant voltage drivers

Dimmable if you so desire, but already a low level light output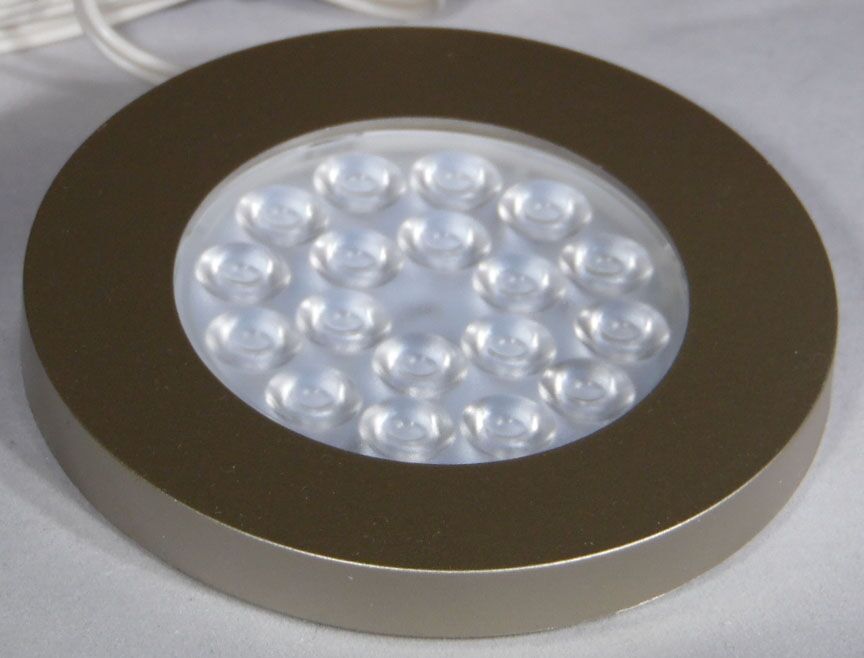 Manufacturer: Hera Lighting
Hera HER-ERLEDSS/CW round ER-LED SURFACE mount LED light, 5/16" tall, very flat profile, 1.2 watt, 98" lead wire attached, cool white, stainless steel finish
Also: HER-ERLEDSS/WW warm white
Add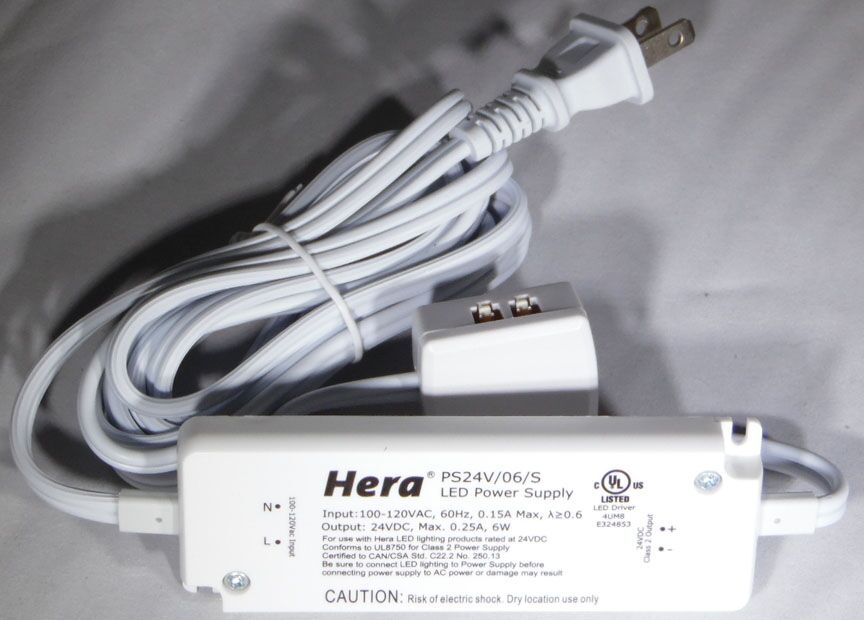 Hera LED Power Drivers and Dimmers
Hera PS24V/06/S LED power driver for R55-LED, FR68-LED, Stick2-LED, and many other Hera LED lights, 24 V DC, 6 Watt max, 4 port terminal block attached, can become dimmable with STICKPSDIM and controller
Add
Ordering Note:
Order the number of lights that you require, and select warm white or cool white for the light output

Then add up your wattage, or wattage per zone, and order the appropriate PS24V LED power drivers

You can view your PS24V power driver choices

here




The PS24V/06/S driver can support 4 of these lights and has a 4-port terminal block for small applictions

Dimmers and additional cabling choices are shown on the power drivers page too.

The ER-LED light is a simple installation, two screws through the body, then the decorative cover snaps over the chassis. They are low voltage lights and must be used from Hera's constant voltage electronic drivers. Connections are plug and play. 39" and 98" extension wires can be used to distance the lights or dimming controls farther away from the LED driver. The lights are surface mount with a very shallow profile, they will not stick down very much, just 5/16".
The ER-LED also can take the place of the old SET2LED lights, also called the ECO-LED. The SET2LED lights came in a kit form only, 3 lights and a special driver for them. They were 1 watt LED lights. The kits were packaged to allow the ECO-LED light to be surface mounted or recessed. When recessed, it fit into a 2" diameter hole. Since it was discontinued, Hera has never created a solution for a light to fit into that 2" dia. hole. So the ER-LED being 3" in diameter and low profile can mount over that hole and hide it, without a big bulky light sticking down from the surface. And being that it is 1.2 watt, the light output is very similar to the 1 watt ECO-LED.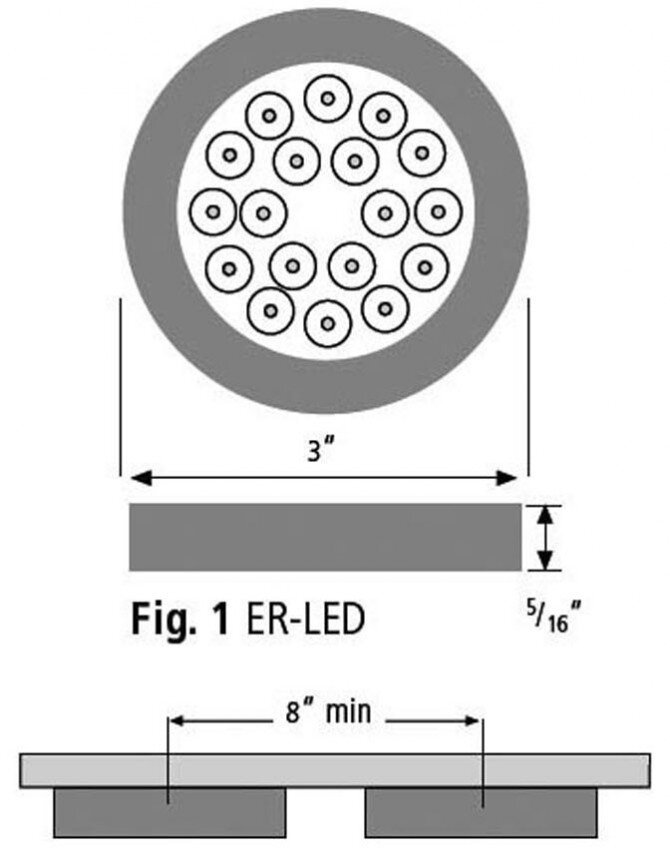 The ER-LED is 3" in diameter. It is very low profile and very easy to mount and then connect to the PS24V power drivers. It is surface mount only. This is an economical LED light, no extra features. A simple accent light where you would like some low level spotlight type lighting. It can be mounted on horizontal or vertical surfaces. If you want to get fancy with your woodwork or application and create a recess for them to fit into, you can do that to create a flush look. There are all kinds of things that creative woodworkers can do.
Hera Lighting summary of cabinet and display light types: