Halogen Under Cabinet Lights [New Options Help]
Hera Lighting section index
Remaining Halogen and Xenon lights and 12V halogen accessories
If you came to this page, you are obviously looking for replacement lights for something you already have. Remaining choices are very limited now. Hera discontinued everything halogen related in August, 2015. We will show you what is left first for the lights, dimmers, and cables. We will make notes about which parts are COMPLETELY gone, never to be seen again in this universe.
Note that parts for the halogen and Xenon lights that might remain will be on the Hera Replacement Parts page. Slim pickins on those too. If any halogen or Xenon replacement bulbs remain, they will be on the replacement parts page too.
After our notes of what is completely gone, we will list some potential solutions for you also. Hints about those solutions are interlaced in the What is gone section.
And since the Hera E1 halogen light is by far one of the most popular halogen lights ever, we have another web page with much more detail about that particular light. Read about it on our
Hera ER1 ES1 halogen lights and rings
page.
Here's what we have left:
Which Halogen lights are completely gone?
Glad you asked. The E1 light and H11 lights are long gone. These by far were the most popular of the halogen lights. On the back of the black (or white) casing for the E1 light, you would see the embedded Hera logo with E1 under it. ER1 and ES1 are the same light. The ER1 was packaged as the recess version of the E1, and the ES1 was the surface mount light. Very doubtful that you will find any of these lights anywhere. The H11, also packaged as the recessed EH11 and surface mount AH11 light, has been discontinued much longer. This light had a D-shape reflector under the lens. Both the E1 and H11 recessed version fit into a 2-1/8" hole. If you would like to view the ideal replacement for this light, please go to this web page:
Loox 2020 LED cabinet lights
The KB12 German made light, both in 10 watt and 20 watt are sold out. The link to the
Loox 2020 LED light
is the ideal substitute for the KB12 halogen light. They are basically the same size, look very similar, and the LED light is near the same light output. When you have recessed halogen lights that had fit into that 2-1/8" dia. hole, the Loox 2020 light is an ideal substitute for the ER1, EH11, and KB12 halogen lights. And the Loox 2020 is also a 12 volt light.
The KH12 from long long ago are all gone (those were discontinued around 2001). The Tri-Tech triangular shield lights are all gone. But we have a solution for the
triangular shield light
at this link. Other halogen lights such as the Wave, Enterprise, and many others are long gone. Stock on the 18 watt XR1 and XS1 is limited, but some remain available as noted above.
Surprisingly, there is still a lot of stock on the Hera 12 volt electronic touch dimmers, the ETD1.
Hera E1 light = all gone
Hera EH11/AH11 lights = all gone
What can I do now? I liked my halogen lights.
Solutions are limited. Especially if you had recessed lights and need to find something that will fit into the same size hole. If you had surface mount lights, upgrading will be slightly easier as it will expand your LED choices. If you can potentially increase the size of your holes, additional recessed lighting options could open up.
The
Loox 2020 LED light
that we mentioned already has bailed out a lot of repairs to date. The light has friction fit clips on the back. They are preset for a 2-3/16" recessed hole, BUT they can compress more and fit into the 2-1/8" hole. It has worked well, especially for boat owners. The Loox 2020 is a 12 volt LED light. It actually can work from the Hera 12 volt transformers. One important factor about using it on the Hera transformers is that Hera has said that their halogen transformers had a minimum load NEEDED of 10 watts. The Loox 2020 LED light is 3.2 watts. We did hook one up to a Hera transformer, and it did work, but we did hear a faint buzzing from the transformer. So the transformer was looking for a greater load. When we exceeded the 10 watts needed, the transformer became quiet and the light performed wonderfully. So you can use the Loox 2020 light on the halogen transformers.
On a boat, you can use the Loox 2020 connected directly to your 12 volt DC just as your halogen lights are. Each light has a preattached twin lead wire. Just splice it in to the existing halogen wires.
In a Home, we would suggest getting the Loox LED power driver with the lights. You can connect many more LED lights per driver than you could halogen. Halogen transformers that are 60 watts had a maximum light allowance of three 20-watt halogen lights. The Loox LED power drivers come in 20, 40, and 60 watt ratings for use with this 3.2 watt LED light. Six lights can easily connect on the 20 watt driver. You can do the math for the 40 and 60 watt. So although LED lighting may appear to be a little more costly up front, there are many saving benefits to it. And in comparison to some of Hera's past premium halogen lights, the Loox 2020 light is actually priced a lot lower. For complete details on the
Loox 2020 LED light
as a replacement for the Hera E1, EH11, KB12, KH12, and even the Tri-tech light, follow that link. (Hafele Loox LED lights have many more options than just the 2020. Check out our
Hafele Loox page
to see more options.)
Hera's replacement LED light for the E1, EH11, and KB12 is the
R55-LED light
. The R55-LED light is designed to fit into a 2-1/4" hole, and is also a 24 volt LED light. The friction fit clips can squish down and it can be convinced to fit into the 2-1/8" hole, but you would need to upgrade to the 24 volt LED power drivers. Different technology than what halogen was.
Hera's replacement light for the ARF halogen is the
FR68-LED light
. It will fit into the same hole. But again, it is a 24 volt system. New LED power drivers would be required. You cannot attach it to the 12 volt halogen transformers. That does not work.
And when it comes to DIMMING, we emphasize, LED lights are dimmed on the low voltage side. If you have your halogen lights set up on a dimmer, that dimming function precedes the transformer. The Hera ETD1 and ERD1 electronic dimmers plug into the wall first, the transformers plug into them. Some people have wall dimmers that control the outlet. These high voltage (120 volt) wall dimmers reducing the power to an outlet or hardwired lights WILL NOT function for LED lights, 12 volt or 24 volt. In order to dim the LED lighting, you must have a 0-10 volt LOW VOLTAGE dimmer. Thus the dimming takes place AFTER the LED power driver.
We just want you to know what you are getting into if you have a dimmable halogen set up and want to keep the dimming feature alive with a new LED set up. LED lighting can be dimmed, but it has to be done the right way. And when wires are strung through walls, or you cannot access or change a wall dimmer to make it work, it can lend to headaches. We have coached many people in vicarious situations to change out the wall switch dimmer to a normal switch to just control power to the lights. Then use Hera's or Hafele's dimming components near the lights to control the dimming. Most dimmers retain a memory. So you can turn your lights on from the wall, or ignore that switch altogether, and then control the lights from the new dimmer. We are always open to answering questions. Situations like this create questions....
Below is one of our pictures that we took before running out of the E1 halogen lights. You can see how similar the Loox 2020 LED lights compare to them (Loox in top row). The Loox 2020 lights can also be surface mounted. And, they are a sealed light. No rings will fall off, they have an IP44 weather resistance rating, and they are all metal construction, front and back. Not plastic. Seriously, this light is the answer to fixing E1, EH11, and KB12 problems.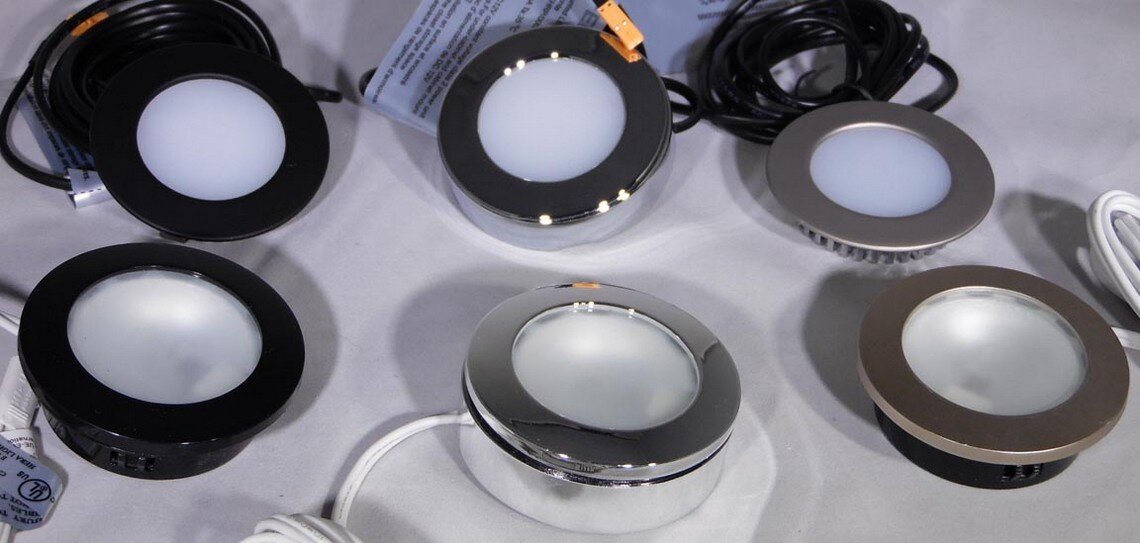 The owner of Eclectic-ware, John Wagonis, became aquainted with Hera Lighting products in 1997. In 2001, he started selling Hera Lighting at Eclectic-ware. It is a high quality product of Europe. Hera has set up a factory in China to produce many of their lights. But the engineering and quality control is German governed. We are continuously asked for replacement halogen lights and transformers that were purchased in the 1990's. This product still lasts a long time. And yes, there are some components that suffer ill fate and do not last long, that is true of almost anything electronic. Cannot predict spikes or brownouts that can damage components. We have advised customers to use surge protectors in areas of high lightning strikes ... such as the entire state of Florida.
We have expanded our offerrings of LED lighting from Hafele. This is the Loox line. There are 12 volt and 24 volt options. There are definitely some very nice value priced options for LED lighting from Hafele. And some solutions to fill the holes of older Hera lights that we do not have a Hera based solution for. To view our selections of
Hafele Loox Lighting
, please select that link.
For example, if you have old Hera E1, H11 (EH11/AH11), KH12, or KB12 RECESSED lights, or even the surface mount versions, check out the 3 choices below for great 12 volt LED upgrades. We are showing the 24 volt 3038 light too, because it also will fit in the 2-1/8" dia. hole.
IP44 water rating. Ideal for boats or other vehicles running 12Vdc. Also a very nice light for kitchen and bathroom cabinets.
IP65 water rating. Superior for boats. Ideal choice if you think some water spray might reach your lights.
This is a 24 volt LED light. It will be brighter than its 12v companions. Looks like the Loox 2047 light, but it is 24 volt. Still economically priced.
Hera Lighting summary of cabinet and display light types: