Elite-LED XL HO Ultra Bright Light
Hera Lighting section index
A High Output (HO) version of the ELite-LED XL
The ELite-LED XL HO (pronounced E-LIGHT) is a brighter version of the ELite-LED XL verison. We need to EMPHASIZE here, this is an XL version. What that means is it has the same connection ends as the Hera SlimLite XL and SlimLite-LED XL had. Two pins on the input end, and two round sockets on the output end. Power cords, cables, and direct connectors push down on the ends of the lights.
Do not confuse this light with the standard ELite-LED HO version - which technically is not available in the US. It may be in the Hera catalog, but it is reserved for certain jewelry businesses.
The XL HO version is what we are showing on this page, available to everyone. And we will show pictures of the end connections so you can see them.
The ELite-LED XL HO light runs from 120 volt household current just as the other ELites do and as the SlimLite did. The ELite-LED XL HO can connect end to end using the SDC/XL direct connector to create longer runs, or be spaced apart with various connecting cables. The energy use is 20.5 watts, a little more than the normal ELite and XL version, but less than what the SlimLite fluorescent was. And you are going to get much more brightness out of this light. 2850 lumens. Non-dimmable.
This light is meant to be used in areas that you want to light up extremely well. And even from higher above. It is available only in one size, that is 45-7/16" long. Corresponds with the old ES46 SlimLite size. If you require ELites in different lengths, the normal
ELite-LED
and
ELite-LED XL version
both come in 5 length choices.
Photo Captions
In the next two photos below, we are showing comparison photos. Left to right in each picture: ES46 Fluorescent SlimLite, EL/LED/46/4000/XL ELite XL version, and then the ELite XL HO version to the far right. When looking at both ELite XL lights, you see no difference, unless they are on. The normal XL version is 1265 lumen, the HO version is 2850 lumen, and only demands 5 watts more of electricity to pull that off.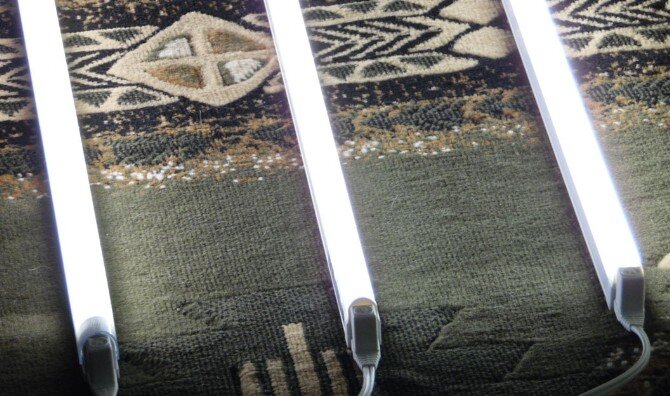 Product Features:
120 Vac LED with integrated electronic driver
Available in one length: 4' (20.5W) actual OL is 45-7/16"
Available in 4000K cool white only

Finish: white housing with white frosted lens, very lightweight
50,000 hours useable life
Good CRI > 80, Efficacy > 140 lm/W
Fixtures can interconnect with direct connectors or connecting cables
Can be powered via a plug in power cord, or hardwired with SHWC/XL or SHWC/S/XL hardwire boxes

XL version is a two prong plug system, not grounded like the ELite-LED normal version

Light output almost entire length of fixture, extremely narrow end collar
EPH certified to NSF/ANSI 2 for use in food applications

Okay to use in damp applications and inside cabinets
When adding the ELite-LED XL HO to your shopping cart, you can select continue shopping to come back to this page to continue to add power cords, cables and other accessory options if needed. The ELite-LED XL HO can be used as a completely new lighting set up. It is for areas where you are looking to add a very bright light. The mood of this light is, you will see everything. It is not dimmable, thus you will always have full brightness when on. If you do need linear lights in multiple lengths, and are planning a new set up, we would suggest using the normal
ELite-LED
. You will have more options for tight spaces, turning corners, etc.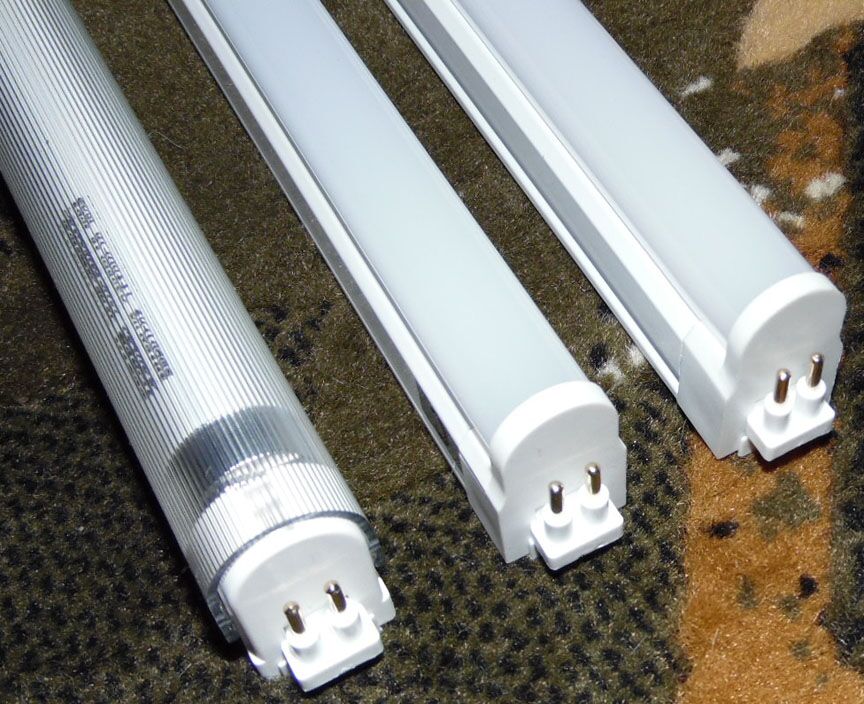 HER-EL/LED/46/4000/XL/HO/ND
Manufacturer: Hera Lighting
Hera EL/LED/46/4000/XL/HO/ND E-Lite LED XL HO, 45-7/16", 20.5W, 120Vac, NON DIMMABLE, with 2-Pin SlimLite XL connecting system. 2850 lm, +/- 100 lm, 4000K +/-150K, CRI > 80, Integrated driver, 50,000 hrs lifetime, includes 2 pcs standard mounting clips. 500W interconnected units max
Add
Why is this light priced much lower than the normal ELite and ELite XL's? Well, because it is on closeout. This light was used in a couple of giant warehouse stores, way up high to light down onto their several tier tall storage racks. It is a great light to make an area glow. And it will be on closeout for a while because Hera has about 11,000 of them left. It is not a light advertised in their catalog, not even sure if it is on their website. But it is on our website. And we will sell it while supplies last. Which will be a considerable number of years.
Ordering Notes:
The XL version of the ELite-LED is generally purchased as an upgrade from the Hera SlimLite XL, both T4 and T5 sizes. The XL HO version can also be purchased as an upgrade or for just a completely new set up. Note again, it is brighter. So if planning on using these in conjunction with some older SlimLites that are still working, they will be brighter than your old SlimLites. You will notice the difference if they are on side by side.
The
EL/LED/46/4000/XL/HO/ND
comes only in this one size. Called a 46, but overall length is 45-7/16". That is inclusive of the XL pin connections on the ends. The
ELite-LED
and
ELite-LED XL
versions come in 5 lengths each.
Lights are packaged individually and will come with metal mounting clips. If you have really old SlimLites, you may still have plastic mounting clips. Discard them, install the new metal clips. No cables or cords come with the lights. Those are all purchased separately. But when upgrading, if you have all your cables and cords in place, you can reuse them.
If upgrading and reusing old cables:
A couple of important notes about disconnecting your existing cables: a) after time, the cables seem to "lightly weld" themselves to the lights. They might not want to come off and will offer some resistance. And they do push down upon the light when they were installed. NOT in from the end, but pushed down onto the light. So you will want to pinch them a bit in an attempt to loosen them. To remove them, you may need to pinch and wiggle them as you attempt to pull them from the light, while holding the light
securely
,
do not expect the mounting clips to hold the light sufficiently when tugging on it
. If you encountered the blackening of the ends of the SlimLite bulbs before replacing bulbs, those ends became hotter as the bulbs reached the end of their life cycle. Thus more heat occurred at the ends of the fixture. And it is heat that causes the cables to stick to the ends more. So you may have to coax the cables off.
The second important note: b) when removing cables, power cords, or direct connectors, sometimes a pin on the input end of a light will break off in the cable. No big deal for the light since you are scrapping the light and upgrading to a new light. But it might make the existing cable unable to be re-used with a chunk of the pin stuck in it. Attempting to remove it with needle nose pliers "might" work. No promises. The pin may really be stuck in there. So if you do end up needing a new cord or cable, those are shown below on this web page.
The ELite-LED XL lengths do not correspond 100% to the SlimLite XL T5 lengths. Pretty much they are 1" to about 1-7/8" shorter than the SlimLites. So if your interconnections between lights do not have any extra slack, that could be a problem. Prior to upgrading, you may want to tug on your connecting cables lightly to see if you do have some extra slack. The XL Pin connection cables and accessories are different from other Hera lights: they do not connect to themselves. They are designed to push down over two pins on one end of a light, and push down over two round sockets on the other end of a light. So if you run into a situation where you need more reach to connect a light, you might need to splice some wire. Don't be afraid of that, SlimLite cables are pretty much just common lamp cord. We are here to answer your questions. If you have a situation, let's attempt to work it out.
Cords, Cables, and accessories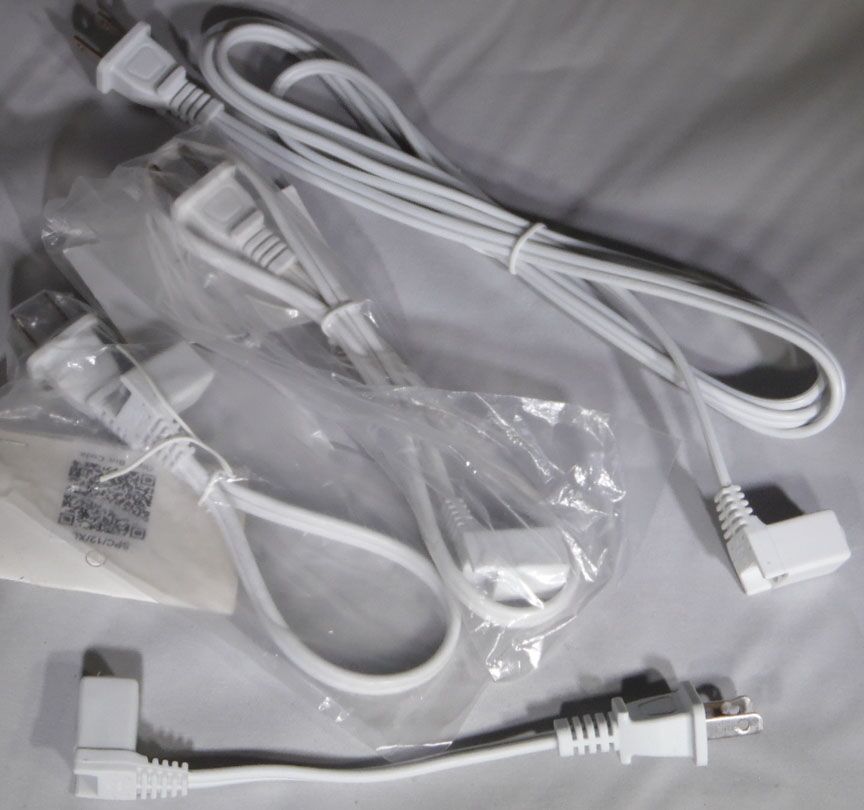 Hera SlimLite XL
Hera HER-SPC/XL power cord 72'' long for SlimLite T5 and T4, XL pin connector
Also available in these lengths:
HER-SPC6/XL 6" long
HER-SPC12/XL 12" long
HER-SPC24/XL 24" long
Add
Hera SlimLite XL
Hera HER-SPC/S/XL power cord 72'' long for SlimLite T5 and T4, XL pin connector - has in-line roll switch for easy on/off operation

Add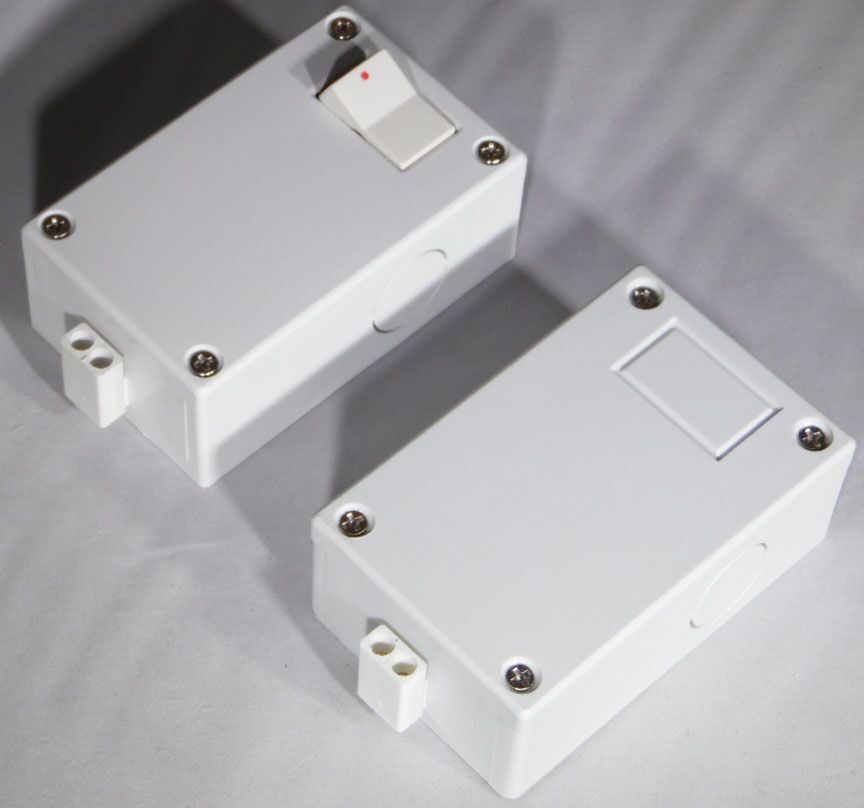 Hera SlimLite XL
Hera HER-SHWC/XL hardwire box for SlimLite XL, has XL output port
Also available:
HER-SHWC/S/XL hardwire box with switch
Add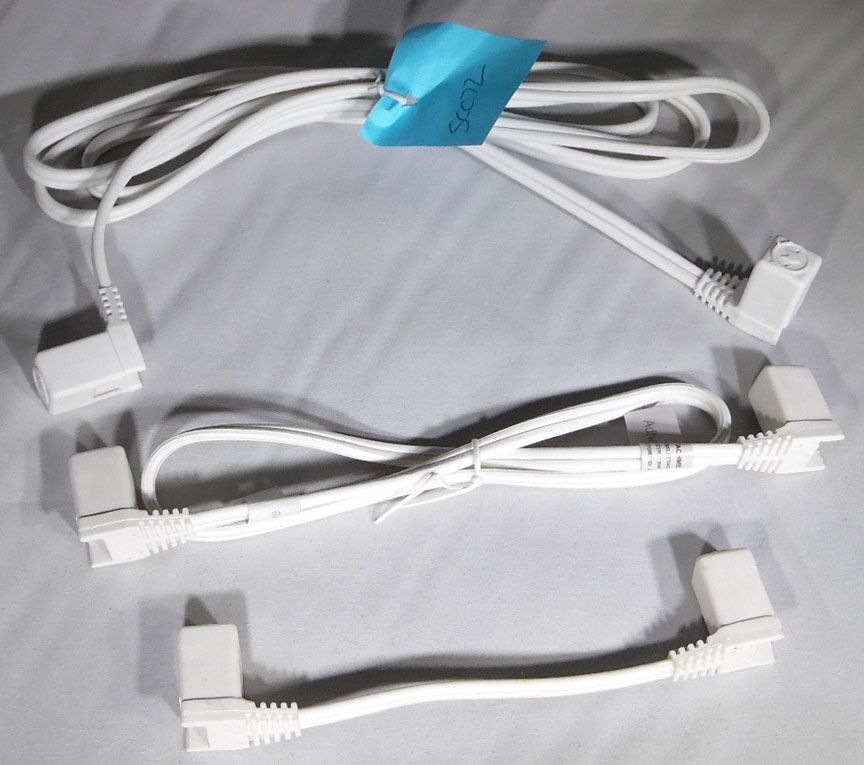 Hera SlimLite XL
Hera HER-SCC(insert length)/XL connecting cable for SlimLite T5 and T4, XL pin connector
Select from these lengths:
HER-SCC6/XL 6" long
HER-SCC12/XL 12" long
HER-SCC24/XL 24" long
HER-SCC48/XL 48" long
HER-SCC72/XL 72" long
Add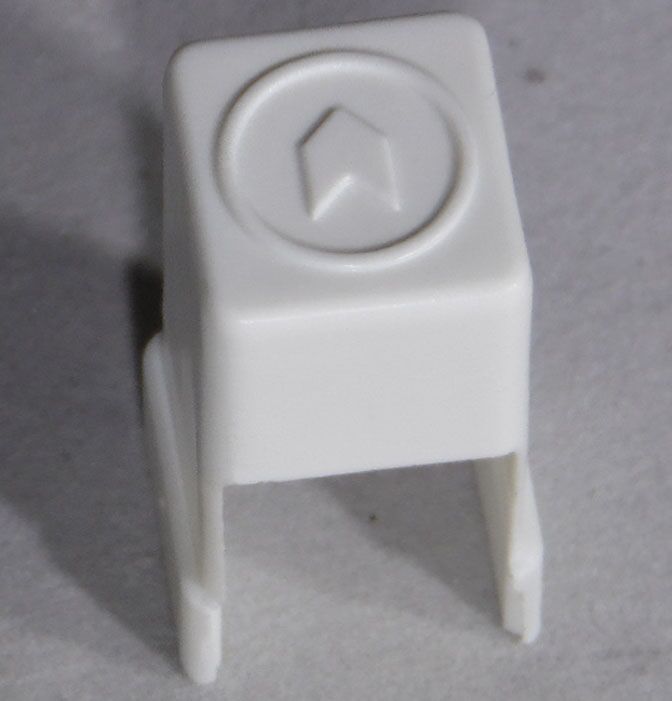 Hera SlimLite XL
Hera SDC/XL direct connector for SlimLites, XL pin connector
Add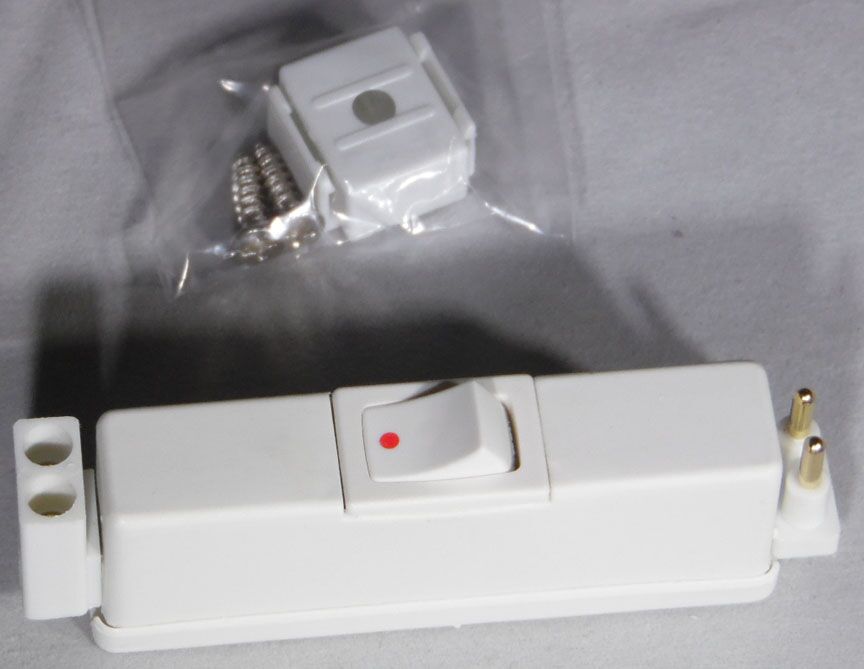 Hera SlimLite XL
Hera SRS/XL on/off rocker switch for SlimLite XL, comes with plastic mounting clips
Add
Additional helpful photos
We took several photos to aid in our descriptions. We are not going to caption each. We will just say, in all the photos on this page, either left to right, or from down upward, we are showing the comparison of the Hera ES46 SlimLite, then the ELite-LED XL in the middle, and then the ELite-LED XL HO version. The HO version and the SlimLite are near equal brightness. The fluorescent SlimLites were always extremely bright. And hot. The bulbs would eventually turn black on the ends. The LED lights are much cooler, and last much longer. No bulbs to change, nothing comes apart on them.
So we are showing a picture of the 3 lights on together, yes, on our floor. I was not going to temporarily mount them to anything just for a few photos. And photo tent is way too small for four foot long lights. Then the label on the HO light so you can see what the specs are. Then there is a picture of a darker area of my home with just the ONE ELite-LED XL HO on to brighten that space. The next picture is the same space, same time of day, with no light on, so you can see the difference that one light made. The light is just standing upright along the right side wall. Had I mounted it to the ceiling, the area would probably look brighter yet. Then I show the output ends for a clear view of how the SlimLites are generally 1" to 1-3/4" longer than their new ELite replacements. And last, my little helper making sure I had all the lights even to each other when taking the previous photo. Pug inspectors run unbound in this operation.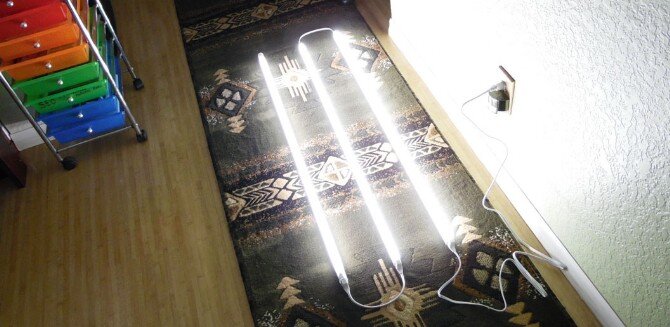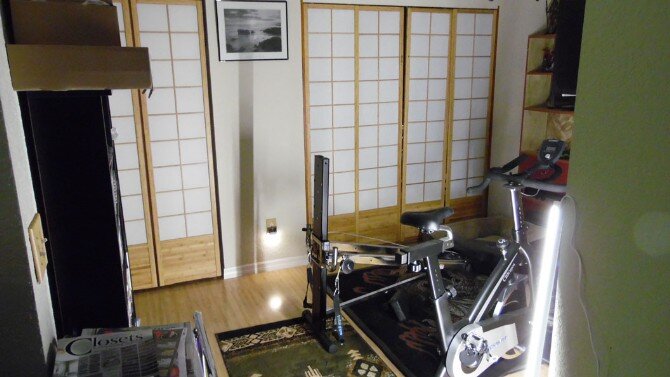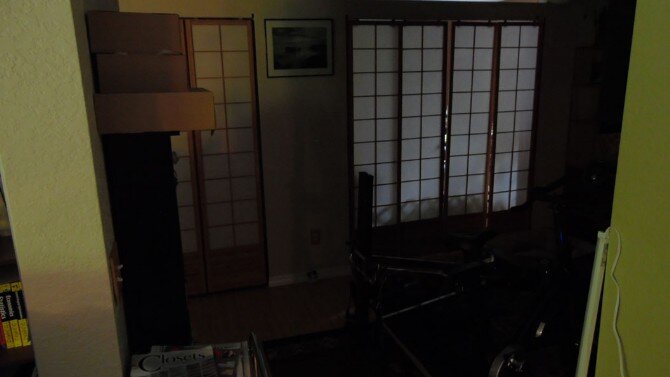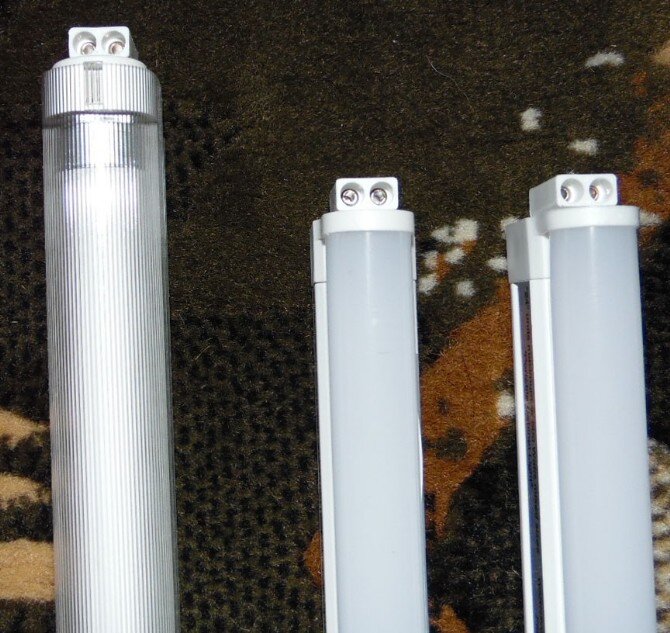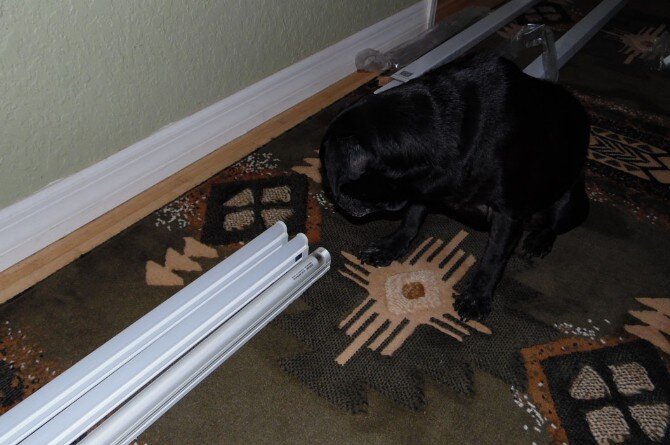 Hera Lighting summary of cabinet and display light types: