R55-LED 3watt Round Spotlights
Hera Lighting section index
A high quality, low profile, fixed small LED spotlight
The 3-watt R55-LED light is an awesome LED light equivelant to the older 20 watt halogen lights. It has a shallow mounting depth of just 7/16", ideal for under cabinet lighting. Featuring the latest LED technology, the R55-LED light is available in multiple finish options. Surface mount rings available for the white, matte chrome and stainless steel finishes. (Shown above: matte chrome upper left, stainless steel finish upper right, then white and black beneath them.)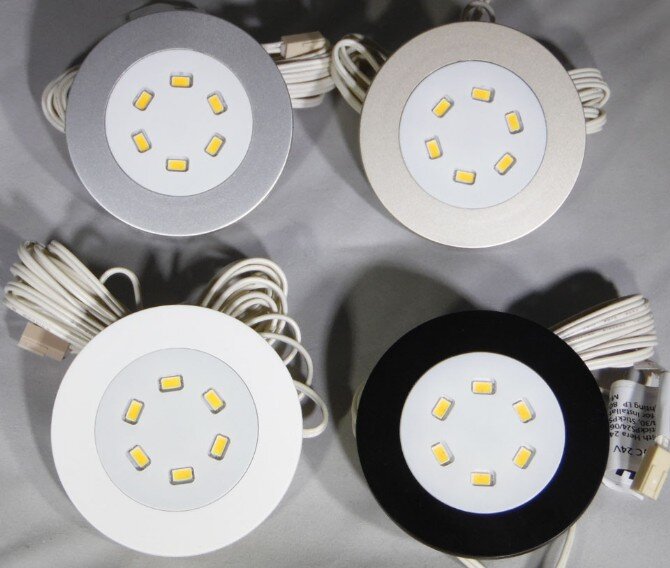 Product Features:

Energy efficient using just 3 watts

2-11/16" total diameter, recessed into a 2-1/4" hole
50,000 hour estimated useable lifespan

Available in White, Black, Stainless Steel, and Matte Chrome finishes
Optional surface mount rings available in White, Stainless Steel, or Matte Chrome, (no black)
Efficacy: 60 lm/W, High CRI >95
Attached 98" lead wire with plug and play connecting end

Suitable to be mounted under cabinet or in sheet metal

To be used with PS24V constant voltage drivers
Dimmable when using available dimming accessories

Ordering Note:
Order the number of lights you require, selecting your color, and then warm white or cool white for the light output.

Then add up your wattage, or wattage per zone, and order the appropriate PS24V LED power drivers.

You can view your PS24V power driver choices

here.



Dimmers and additional cabling choices are shown on that page too.

The R55-LED light is a simple installation. They are low voltage lights and must be used from Hera's constant voltage electronic drivers. Connections are plug and play. 39" and 98" extension wires can be used to distance the lights or dimming controls farther away from the LED driver. The R55-LED light when recessed is designed to fit into a 2-1/4" hole. Friction fit clips are attached to the back of each light, as shown in the picture below. Additionally, the friction fit clips can condense enough to allow the light into the popular 2-1/8" hole which was common with many of Hera's past halogen lights. So this light is an ideal upgrade for the majority of their older halogen lights. (EH11, E1, KB12, KH12)
As you can see from the next picture, the attached lead wire can be directed straight up from the light through a pilot hole, or to the side. The surface mount rings for the white, matte chrome, and stainless steel finishes have a notch in their sides to allow the light wire to escape neatly out the side if you choose.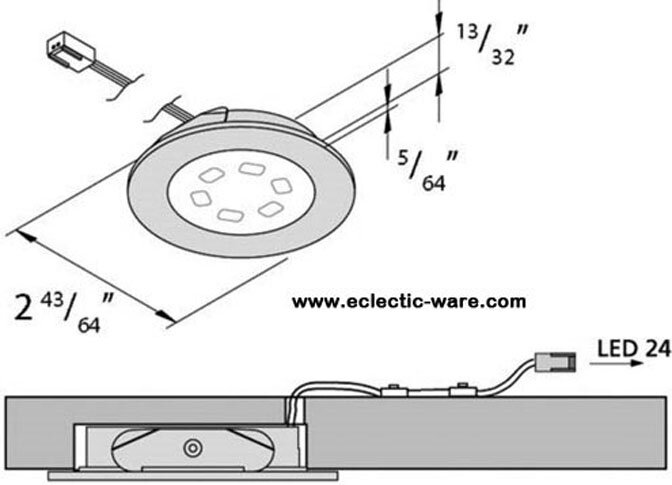 In the specs diagram, the R55-LED light is shown recessed. Surface mount applications are available also using the optional surface mount rings, except in the black finish. Surface mount ring for black light is not available (yet). The lead wire for the light can be passed through the cabinet bottom and hidden on its way back to the PS24V power driver. For surface mounting, wiring can follow the same type of path or lead out the side of the light through the notch in the surface mount ring. Got questions?
E-mail us
or call us.
Alternative LED Light:

We have had many requests for a similar light, but without the LED chicklet look in the face. Well, we have one. It is more economically priced too. It is not available in as many colors, but the 3 silvertone colors may meet your need. For more info, see
Loox model 3038 LED spotlights
Hera Lighting summary of cabinet and display light types: