SR68-LED Swivel Spotlight
Hera Lighting section index
Recessed High Output Swivel Spotlight
The SR68-LED spotlight is the big brother to the SR45-LED. It is a 5.3 watt high power LED light with a tremendous light output. It has a tiltable function of 20 degrees forward or backward to highlight artwork, statues, or whatever else you plan to display. Pinpoint the light upon your objects. This light is designed for where you would like to place a high level of light. Great for product presentations too. The lens is semi-frosted to help diffuse light so you can create an attractive well balanced display.
Product Features:
High quality brushed aluminum housing


Energy efficient at 5.3 watts




Available in 3000K warm white and 4000K cool white




Estimated 50,000 hours of useable life (6 years if on 24/7, but consider, if on 8 hours a day 5 days a week, that is approx. 24 years)




Efficacy: 95 lm/W, CRI >80




20 degree tilt to either side




Recess depth required is 1-1/2" or greater




Attached 98" connecting lead with plug and play jack




Approved for use in closet applications




For use with 350 mA constant current driver (one or two can work from PSLED/10)




Dimmable if used on PSLED/DIM/S driver (max. 2 lights per this driver)



Manufacturer: Hera Lighting
Hera HER-SR68/CW swivel spotlight LED 5.3 watt, 4000K cool white, 90 lm/W recessed mount, brushed aluminum (uses PSLED power drivers), 98" attached lead
Or HER-SR68/WW 3000K warm white
Add
Hera LED Power Drivers and Dimmers
Hera PSLED/10 power supply for 24V LED lights, 350 mA constant current with 79'' cord length, 10 watt (but can support up to 10.8 watts)
Add
Hera LED Power Drivers and Dimmers
Hera PSLED/DIM/S dimmable power supply for LED lights, 350 mA constant current with 79'' cable, 18 watt (dual 9 watt leads) - requires DIMCONTROL to be dimmable, works at full output without controller
Add
The PSLED/10 driver can actually support up to 10.8 watts. So one or two of the SR68-LED lights can work from this driver. If you desire a dimming option for this light, then you need to use the PSLED/DIM/S driver which is a dual 9 watt. There is only 9 watts per terminal block. So even though the maximum capacity for that driver is 18 watts, you cannot hook up a 3rd light, it will not work that way. Only two of the 5.3 watt SR68-LED lights can operate from that driver.
On the extended pictures shown when clicking on the light above, you will see two silver winglike flanges. These are the friction fit flanges that hold the light in place in the recessed hole. You will not see them when mounted. Please do be careful when handling them as they could be sharp enough to cut fingers. The diagrams below explain that a little more and show the dimensions on the light also. Additionally, spacing requirements for heat dissipation.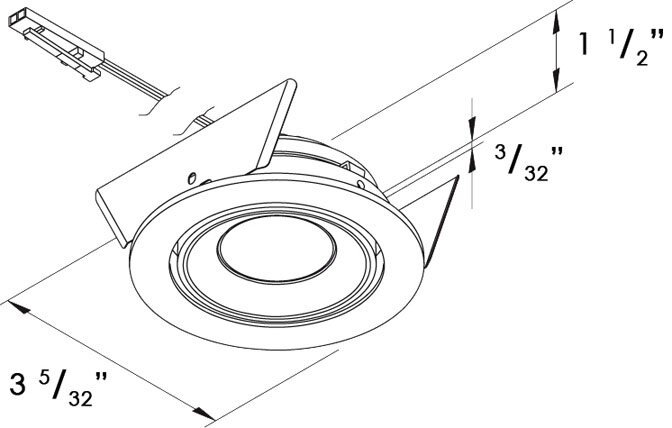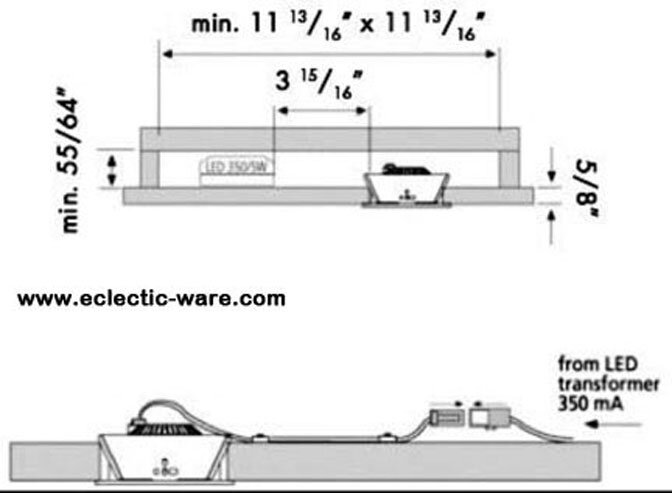 Hera Lighting summary of cabinet and display light types: