Stick3-LED Linear Shielded LED Lights
Hera Lighting section index
Miniature Linear LED Light with Bright even light output
The Stick3-LED is Hera's prime addition to the Stick-LED family of lights. You can recess or surface mount these linear lights for furniture, display, showcase, or under cabinet lighting. The Stick3-LED is designed with a frosted continuous lens to produce a smooth light output similar to fluorescent, yet with a much smaller dimension and no LED hot spots. The beam angle is wide, throwing light evenly and far. Overall, the Stick3-LED is approx. FOUR times brighter than the Stick2-LED.
Product Features:
Bright linear LEDs with continuous frosted lens


Extremely small dimensions: 1/2" width x 1/2" height




Can be recessed mounted (flush with surface) or surface mounted




Available in five sizes: 8" (2.5W), 12" (4W), 24" (7.5W), 34" (11.5W), and 46" (15W)

Readily available in 3000K (warm white), and 4000K (cool white)

Also availble from 2700K to 6500K by special order, but larger minimums apply (generally hundreds of lights to order these special Kelvins)

Estimated 50,000 hours of useable life




Excellent CRI >85, Efficiacy > 94 lm/W



Extremely high, even light output
Lights can connect end to end by overlapping, or spaced apart with connecting cables, allows for turning corners too
Power supply cable is 59" and ordered separately, one per run of lights, multiple runs can lead out of same power driver
For use with PS24V constant voltage power drivers or PS24V Daisy Drivers


Magnetic mounting clips available, and 45 degree screw mount clips available too

NOT Dimmable (updated 8-13-22)




Manufacturer: Hera Lighting
Hera HER-STICK3/24/CW Stick3-LED 24'' long, 7.5W cool white, needs LED driver, power cable, and possibly various connecting cables
(available in 3 lengths, on closeout)
HER-STICK3/24/CW 24" long, 7.5 watt
HER-STICK3/34/CW 34" long, 11.5 watt
HER-STICK3/46/CW 46" long, 15 watt
Add

Manufacturer: Hera Lighting
Hera HER-STICK3/8/WW Stick3-LED 8'' long, 2.5W warm white, needs LED driver, power cable, and possibly various connecting cables
Also: (available in 2 lengths) - Discontinued. ThinStick-LED is replacing Stick3.
HER-STICK3/24/WW 24" long, 7.5 watt
See THINSTICK-LED for what is taking over for Stick3-LED
Add
Manufacturer: Hera Lighting
Hera STICK3/PC [STICK3 system] power cable for Stick3-LED light system, connects from power driver to first light in series, 59'' long
Add
Manufacturer: Hera Lighting
Hera HER-STICK3/CC2 [STICK3 system] connecting cable 2'' long, for Stick3-LED lights
Also:
HER-STICK3/CC12 12" long cable
HER-STICK3/CC39 39" long cable
Add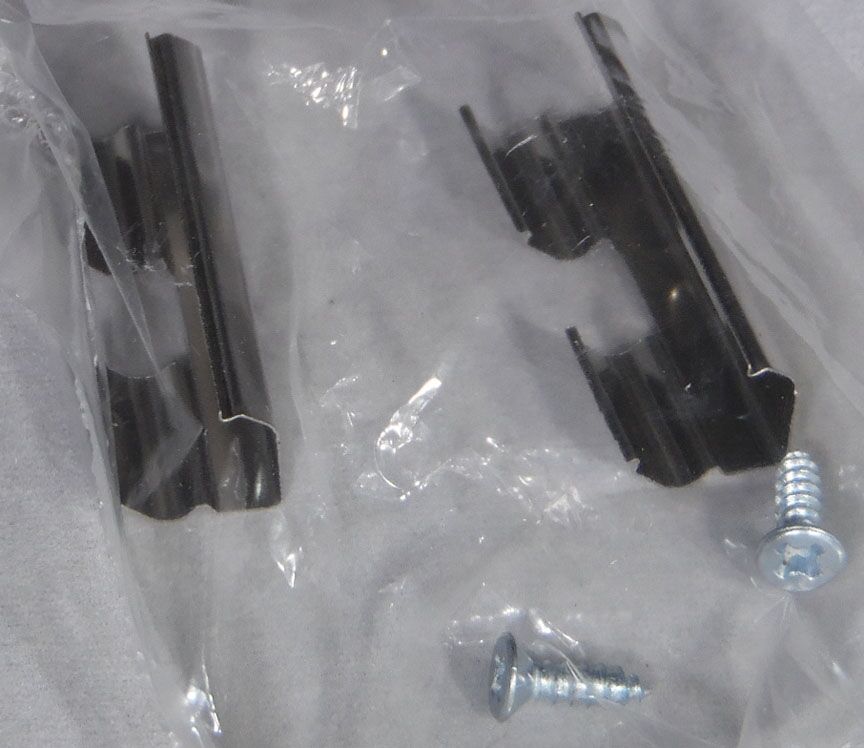 Manufacturer: Hera Lighting
Hera STICK3/MC/45/SET mounting clips for Stick3-LED lights, 45 degree mount, packaged in 2-pack
Add
Manufacturer: Hera Lighting
Hera STICK3/MC/MAGNET mounting clips for Stick3-LED lights, magnetic, packaged in 2-pack
Add
Ordering Notes:
(many of them)
The Stick3-LED involves some planning. The lights come in 8", 12", 24", 34" and 46" lengths. You can connect them end to end to make longer lights, and they overlap when connected, thus giving the impression of no gap. Up to 11.7 feet of lights (11 feet, 8 inches), mix and match sizes to reach that, can be powered from a single STICK3/PC power cable coming out of the terminal block on the driver. Drivers come in 6 watt, 30 watt, 75 watt, and a 96 watt. You can have multiple STICK3/PC power cables coming out of the same driver (30 watt or larger drivers) if you need to extend lights in multiple directions, as long as you do not exceed the total wattage of the driver.
Power Drivers page
So you need to measure the lengths of your runs. If you need to extend past the underside of an upper cabinet to the next, and a light rail hangs down (that drop down piece of wood that extends lower than the cabinet bottom), you can drill through the light rail and use a connecting cable to continue power to the next light. If you connect an 24" light and a 34" light, you can make a 58" seemless light, or space them apart with a cable. Et cetera for other various lengths added together. When you have a long even straight line and you would like continuous light, you can create long strings up to 11 feet 8 inches. If you need to go longer than that, you would just start a second run of lights on the same directional line picking up where the first ended, but starting as a new line with a STICK3/PC.
For L or U shape kitchens, you can centralize your power driver and extend runs in multiple directions. This can save on using multiple drivers and trying to run a 98" power cable with or without an extension lead past your light runs.
Extension connecting cables
to extend the reach of the STICK3/PC power cable are shown on the drivers page. The KB12LEDCC connecting cables are used to extend the reach of the STICK3/PC power cables, but the KB12LEDCC cables are
not
used between lights. The STICK3/CC cables are used from light to light. STICK3/CC cables can connect to themselves to create longer cables.
The wattages for each light are shown above in the ordering blocks and also under Product Features. Add up the wattages of your planned interconnected lights, and then order the appropriate size power driver. You need one STICK3/PC per run of lights, with a maximum of 11.8 feet per power cable.
The Stick3-LED lights are NOT dimmable. Any of Hera's dimming accessories shown on pages we are linking to in this explanation do not work for the Stick3. The light is not designed to be dimmable.
The Stick3-LED lights can be used in conjunction with any of Hera's spotlight LED lights that run from the PS24V drivers. The spotlights connect into the terminal block on the driver directly. The Stick3-LED light must use the STICK3/PC. That power cable has the jack connection on it to connect into the driver, and then the Stick3 connecting end to attach to the input end of the first light. Single light runs are fine too. You can have a driver, power cable, and one Stick3-LED light on a run. Sometimes that is all you need for a small area such as the cubby on a hutch desk.
When Interconnecting these lights on display shelves: you can run them across shelves and at multiple levels, and have them continuously connect via connecting cables. You will need multiple drivers for larger display areas. These lights are great under glass shelves too. They can be mounted with two-way tape or with mounting clips. Magnetic mounting clips are for attaching them to coolers and other magnetic metal surfaces that you cannot drill into. Stick3-LED lights can be mounted both horizontally and vertically.
The lights are okay to mount in a recessed channel if you do not wish them to protrude downward from the underside of your wood surface. When you look at the extended product images in the shopping cart cards above, you can see how the frosted lens will technically allow light to project about 180 degrees. When recessed, you will limit that and focus light more downward, instead of downward and outward. Please keep that in mind as to not recess them too deeply. 3/8" to 1/2" is the advised recessed depth of your channel when not surface mounting.
We know questions generally arise concerning these lights. You are welcome to
e-mail
or call us.
The only spec diagram Hera has created for the Stick3-LED just shows how it measures 1/2" x 1/2".
The Stick3-LED lights are low voltage and must run from the 24 volt constant voltage power drivers. There are several choices of drivers, the PS24V drivers are those you want to select from, generally the 30 watt and 75 watt are the most common choices. Stick3 lights are NOT dimmable. Switches and extension cables are also shown on a separate page (extension cables to preceed the STICK3/PC). There are many options shown on that web page to keep this page from becoming too long ... and cluttered. Please go to
LED Power Drivers and Dimmers
to make your selections to go with the Stick3-LED lights.
Additional Length and Lumen info:
STICK3/8 is 7-7/8" long and 240 lumen

STICK3/12 is 11-13/16" long and 360 lumen

STICK3/24 is 22-7/16" long and 640 lumen

STICK3/34 is 34-1/4" long and 1100 lumen

STICK3/46 is 44-7/8" long and 1400 lumen

Consider this, if you connect 8 of the 12" lights together, this technically would be 94.5 inches.
If you connect two of the 46" lights together, you get 89.75 inches.
Sometimes using more of the smaller lengths gets you a more tailored run length.
Hera Lighting summary of cabinet and display light types: