Diamond Knurling Handles Century Hardware
Century Hardware Diamond Knurling Collection - Knurled European Railing with optional backplates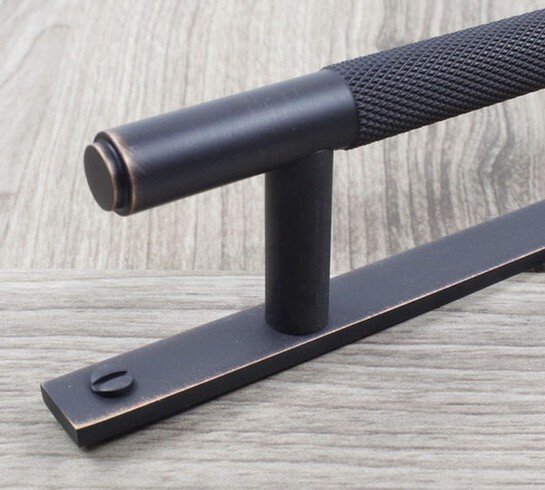 The Diamond Knurling European Railing style handles show that Century Hardware comes up with awesome cabinet hardware ideas. The knurled finish to mid section of the bars of the handles give them a unique look - and feel. Feels like grabbing onto fine diamond plate metal, which technically it is. The handles come in the three most popular generously sized European handle sizes.
The backplates shown under the handles are at your discretion to use. You can mount the bars without them. However, the backplates have a hidden bonus for those upgrading hardware on existing cabinet doors with pre-bored holes. The backplates can HIDE your old holes. The backplates come in three sizes to coordinated with the handles; a range of approx. 7-1/2" to 10". So if you had 5" CTC holes drilled, you can re-drill for the hole size of the new handle and cover up the old holes and forget they were even there. Small hole centers too. If you have the ever popular 2-3/4" or 3", as long as the shortest handle in this collection is not too overwhelming for your door or drawer size, you can use these. The full length backplate is awesome for disguising old screw holes.
The matching knobs have a similar cut and texture. There is the grooved edge and the sides have the same diamond knurling. Available in the same four finishes.
Century Hardware collection pages: