Walzcraft Melamine Kitchen Cabinet Doors
Use the orange Menu button to navigate our Walzcraft Doors pages
Walzcraft Melamine Kitchen Cabinet Doors
I think it is safe to say, this style of door was primarily used in kitchens and office kitchens. It's not really a bathroom cabinet style. Don't think you would want them scattered in your living room. But in older style apartments and villas, country kitchens, and even at the workplace, this door design, at one time, was super popular.
The continuous wood finished finger pulls, which you can select to have on the top and bottom, or just the top or bottom, allow you to grab your door or drawer front from many points to pull them open. On the
Walzcraft Melamine Door Wood Pull Choices page
, we will stive to give you very detailed information on how to match these current selections to the old Quality Doors and Woodmont Doors selections. A good page to pay attention to. The wood stain colors page will be a big help there too.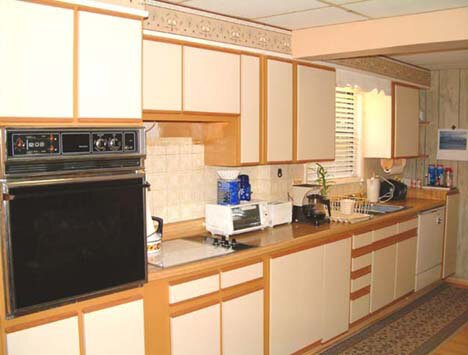 This is a picture from one of our customers pre-dating 2008. In 2009, Quality Doors was shut down, and so went their line of Melamine cabinet doors. Basically, the melamine cabinet doors are a slab style door, that were either white or almond for the melamine choice, and then you had 2 or 3 choices for the wood stain finish of the red oak finger pulls. And there were a few different designs of finger pulls, commonly referred to as C-pulls and J-pulls.
In the picture above, you can see that the wood pulls are mounted to both the TOP and BOTTOM of all doors and drawer fronts in this kitchen. You have options. They can be top and bottom, or one-sided top or bottom only. The one-sided doors were kind of popular, especially for base cabinets with a drawer front above them. A little less wood showing, and cleaner lines between the melamine surface when a drawer butts above a door. With those options, you get to order them how you want them.
Sometimes these doors were ordered WITHOUT finger pulls. Just 4 sided edge banding, no wood. That is a clean modern look. White slab doors are popular in Miami and other warm beach communities. Just a popular style there.
The Walzcraft doors can be ordered for a New kitchen starting fresh, for remodeling, or just replacements for some that need replacing. There is no minimum size order other than starting at One. You can't order Zero. ;)
This is our summary with a spec of history. Now on to the juice pages with all the info:
Additionally
Walzcraft
is a huge company. They offer a mega-ton more selections than just these few doors we are showing. Their line also allows for the Melamine Doors to be made with finger pulls other than just Red Oak. Our focus with these 5 web pages is to offer solutions for holes that Quality Doors and Woodmont Doors left when they discontinued this style of door. Customers do find us when needing just a door or two to replace doors. Apartment building managers find us when they need to completely revamp a few of their apartments to keep a uniform look from unit to unit. So if you do need something other than the few choices we are offering, there is a lot more available. It can get quite complex.
Walzcraft Website section page index