Walzcraft Melamine Door Wood Stain Colors
Use the orange Menu button to navigate our Walzcraft Doors pages
How to Better Match your wood finger pull COLOR to your doors
This is our:
Pick your wood pull stain color page
. Probably the page everyone wants to see if you have Quality Doors or Woodmont Doors melamine cabinet doors that you are trying to match to. And for those of you who need to do this, you are going to like what we can show you.
When Quality Doors first closed, we were scrambling to show which Woodmont Doors could cross reference to Quality Doors. We had a lot of Quality Doors customers that wanted to add some cabinets for a second kitchen remodel. Or to add an island. To match a second bathroom to another bathroom. Whatever the reason, we had to help customers with wood stain color matches, and design matches if possible.
So we KEPT our old wood stain chips. Most of the time, I would throw stuff like this away when it is obsolete. Like a lot of nice sample doors that ended up out on the curb. Not all stain colors matched, some had no matches. But here is what we can show you.
First: The Five stain colors on Red Oak from Walzcraft
Medium Brown Walnut stain
on Red Oak wood
Honey stain
on Red Oak wood
Dark Honey stain
on Red Oak wood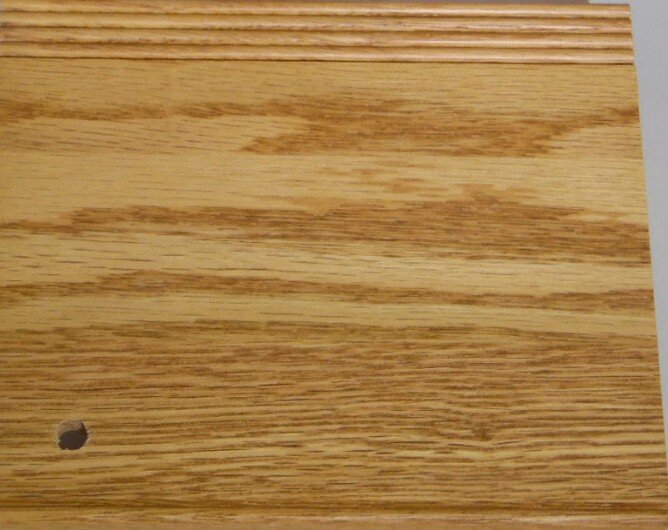 Fruitwood stain
on Red Oak wood
Ash White stain
on Red Oak wood
As we breifly hit upon on our intro page, Walzcraft is huge. They have many more stain colors and wood choices for the wood finger pulls. We selected stain colors on Red Oak that best matched to BOTH the Quality Doors and Woodmont Doors older selections.
Our photos above are our photos. We took them from the stain block examples on our sample chains from Walzcraft. We tried to capture the grain and color the best we could in our photo tent.
And now, Comparison photos to the older stains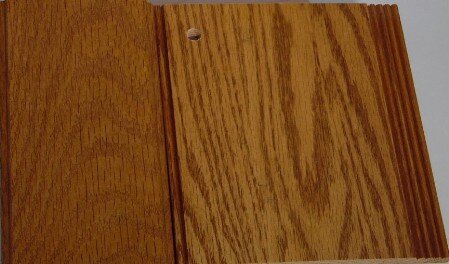 Walzcraft Medium Brown Walnut compared to Woodmont Autumn finish
Woodgrains differ. But when we compared these two samples side by side for hours it seems, the Medium Brown Walnut is by far the closest match to the older Woodmont Autumn on oak finish. The grain in the Medium Brown Walnut seems to pick up slightly darker, and the smooth part of the wood is faintly lighter. But the blend is great. This is an excellent substitue for the old Autumn color.
Walzcraft Honey compared to Woodmont Wheat finish
As close as you will get to the Woodmont Wheat finish. The Honey on Red Oak emphasizes the red just a hint more. It looks richer. This is not an exact match, none of them are exact. And when I hold my two samples about a foot apart as I write this, they look near identical. When resting upon one another and I stare at them, I can see the Woodmont Wheat appear just that tinge less red. Not red in the sense of red, but there is a hue to wood. And when brown tones change, it is generally due to red, grey, or yellow in the mix that alters them. Honey is a great sub for the old Wheat.
Walzcraft Dark Honey compared to Quality Doors Royal finish
Added Note: Before Quality Doors called the finish Royal, it was named Chestnut.
This is another match that is near exact. I doubt that many people would be able to stare long enough to detect the difference. But the Walzcraft Dark Honey stain on Red Oak is a tinge more golden on the smooth parts of the grain. The dark grain lines match up to the Royal very well. So if you had the QD Royal finish, this is a great sub for it.
Walzcraft Fruitwood compared to Quality Doors Harvest finish
Safe to say, Quality Doors Harvest finish on Red Oak was probably their most common finish requested. Known as a Golden Oak or Honey Oak, it was more popular than anything else. And Walzcraft's Fruitwood is pretty much a dead ringer for it. Very safe to go with this color if matching to the old QD Harvest. And before Quality Doors renamed their stains, their Harvest was called Wheat.
Do note that Quality Doors version of Wheat and Woodmont's version of Wheat are not alike. The Quality Doors version is much more golden. So if you know you have Quality Doors brand and if really old called Wheat, but if from the 2005-09 era called Harvest, you are good to go with Fruitwood for an excellent match.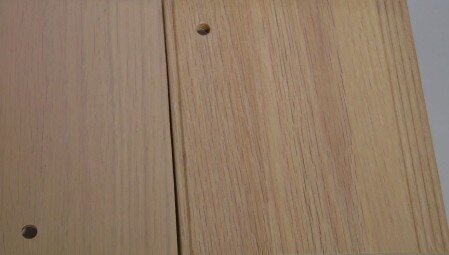 Walzcraft Ash White compared to Quality Doors Frost finish
This is a near exact match too. Quality Doors Frost finish comes off slightly greyer than the Walzcraft Ash White. This will be as close as you will get to the white wash look on red oak. And in Quality Doors earlier years, I believe they called this color champagne. My memory is slipping on a few things. This was not a popular color, very rarely requested. White wash had its time and it has gone away for a while. It will be back, just like Eight-Track tapes one day. The Walzcraft White Ash is a very charming white wash look.
In our 5 comparison photos above, the Walzcraft stain blocks are on the right side of each picture. The more square block with the beaded edging cut into it so you can see how the stains look on contours.
When you proceed to our
Our on-line quotation or order form page
, there is a drop down list with the 5 Walzcraft stain colors on Red Oak. Make your selection there. Additionally, if you require the wood pull unstained and ready for you to stain, you can do that. But it will be attached to the door. Even if you tape it up, some of your stain could bleed onto the melamine surface. It could get messy. But since we have had customers in the past request them as raw red oak, we want to keep that option viable.
Walzcraft Website section page index