Big Hook Glass Shelf Supports
Expo Design section index
Expo Design Big Hook and Big Hook glass shelf kits
The Big Hook glass shelf kits will come as two of the Big Hooks with a 6" deep piece of Tempered Glass, and then you have 4 length choices for the glass. There are two rubber bumpers on the top face of each Big Hook to hold the glass from shifting, and to keep metal from directly touching glass. The Big Hook is designed for 6" deep shelves only.
If ordering only the Big Hook without the glass to use for your own shelving, wood shelves can be up to 6" deep. If you want them to be a little less, that can work. It can also allow for the end of the Big Hook to become a second hook to use if you wish to hang something further out from the wall. The Big Hook is packaged individually, NOT by the pair like the Curve Clips and Shelf Clips. So order as many as you like and you can use them in odd numbers. If planning on using them for glass shelves less than 6" deep, you may want to consider adding another rubber bumper to them a little further back from the front so your glass shelf can rest properly and evening across the brackets.
Expo Design: The Big Hook
Expo Design 6 inch deep Big Hook Shelf Kit. Composed of two of The Big Hooks and a piece of 3/8" thick tempered glass in a 6" depth (only). Kit and glass length choices:
EXPO-618BHS 18" long glass 6x18
EXPO-624BHS 24" long glass 6x24
EXPO-630BHS 30" long glass 6x30
EXPO-636BHS 36" long glass 6x36
The Big Hook comes in a frosted chrome finish only.
Add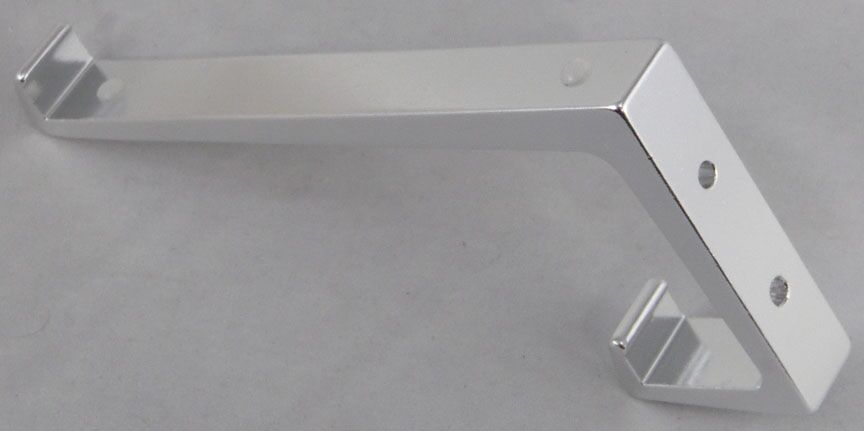 Expo Design: The Big Hook
Expo Design BHK The Big Hook. Sold Individually, not in pairs.
The Big Hook will allow a glass or wood shelf to mount above it, and then also give you a convenient hanging hook below. They are sold individually, so you will need at least two. But you can use 3 or 4 for much longer shelves, or if you like to set up more hanging space. Frosted Chrome finish only, and designed for up to 6" deep shelves, the front of the bracket has an upward lift to it.
Add
Expo Design Product Pages: