Custom Made Stainless Steel Cabinet Handles
Arthur Harris section index
Arthur Harris brushed stainless steel European Railing style handles
Arthur Harris stands out, way out, from other decorative cabinet hardware manufacturers. When they first started offering cabinet handles, they were available in 1/2" and 5/8" bar diameters, and the lengths were standard in 2" increments such as 6", 8", 10" etc. all the way up to 96". Twenty years later, they still have their fantastic solid 303 grade elegantly brushed stainless steel rail handles. But, now offered in 6 diameter sizes, and in any length to the sixteenth of an inch in sizes up to 96" long. There is a standard way that they make this fine handle, yet you also have the choice of varying the CTC (center to center) ratio to OL (overall length). The standoffs (legs) can be increased or reduced in height. Some handicapped applications call for taller handles to get more of your hand behind the pull, Arthur Harris can do this. And then the handles evolved to offer a
Back to Back mounted
application. Thus you can have a handle directly opposite another on the other side of a passage way door without having to offset them from each other to get the bolts through. We have a separate web page set up for information on the
Back to Back Mounted handles
.
All handles are made to the sixteenth of an inch in length. So when you need a handle at 15-3/4" long for one drawer, and the next bank over you need 22-3/16", they can be made as such. Handles can be mounted vertically and horizontally. We have a customer who sent us a couple photos of her kitchen after her new Arthur Harris handles were installed. She installed them vertically and horizontally. You can view those photos on our
Customer Testimonial page
in this section of our website.
Custom sizing is important because today's kitchen are far different from houses built 50 years ago. And custom kitchens are different for those that use standardize mass produced cabinet boxes in 3" increments. So it is easy to match widths of drawers and heights of cabinet doors and create a superior uniform look in your kitchen or bathroom. Why settle for a pre-sized 12" cabinet handle on a pantry door that is seven feet tall. And then, on a bigger more bold door like that, you don't even have to stay with the same bar diameter. Notch it up a size or two and make that pantry door stand out. Dishwasher handles and fridge handles can match two, generally using the 7/8" bar size which is better suited for tugging open fridge doors that sometimes make you work to get into them.
This page was EXCESSIVELY long
because it did show all 6 diameters in price grids per inch of length. But pricing has changed and we are working right now (1-11-23) on a way to make this product shopping cart friendly to order. For the time being, you can send us a list of your sizes using our quotation request form:
Arthur Harris ordering/quotation form
to get a quote from us.

Dimensions and Bar Diameters:
The BF Series (smallest) bar is 3/8" dia., standoffs (legs) are 5/16" dia., overall height 1-3/8"

The BS Series (most popular) bar is 1/2" dia., standoffs (legs) are 3/8" dia., overall height 1-1/2"

The BJ Series bar is 5/8" dia., standoffs (legs) are 1/2" dia., overall height 1-5/8"

The BL Series bar is 3/4" dia., standoffs (legs) are 5/8" dia., overall height 1-3/4"

The BN Series bar is 7/8" dia., standoffs (legs) are 5/8" dia., overall height 1-7/8"

The BD Series (largest) bar is 1" dia., standoffs (legs) are 3/4" dia., overall height 2"

Standoffs are meant to yield a 1" underside clearance. This can be altered too upon request.
On the BF series (3/8" bar), the maximum length allowed is 35" due to machining safety standards. The other 5 diameters can be made up to 96" long.
Eclectic-ware offers Arthur Harris Volume Discounts:
For quantities of 25 to 49, 10% off the prices shown below.
For quantities of 50 to 99, 15% off.
And for quantities of 100 or more, 20% off.
Mix and match knobs and pulls or sizes to meet quantity discounts!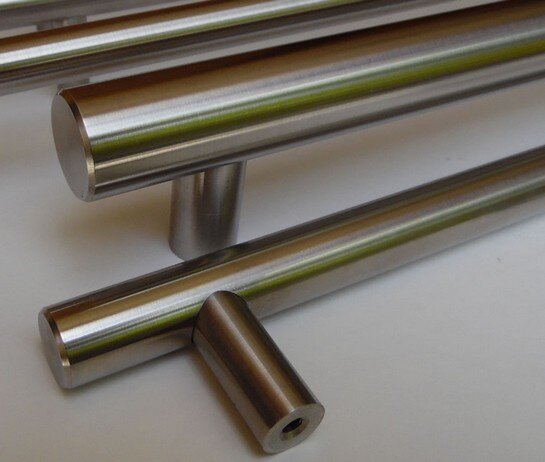 Facts about each Series:
Pull ends are machined beveled for a smooth feel.

All overall lengths are made to the sixteenth of an inch. You do NOT need to round off to whole numbers. Order special sizes, it's okay!

All standoffs (legs) are 1" tall, thus you have 1" of space on the underside of the handles. Standoffs seat into the handles for a very strong fit.

All CTC (center to centers) are 2-1/2" less than OL (overall length) - as the default ratio of making them.

Custom CTC measurements other than the default 2-1/2" ratio, and custom standoff heights can also be done. Set up charges "might" apply on really wild orders with a lot of changes.

A third standoff (leg) is added to handles at 30" for the BF, 32" for the BS, 32" for the BJ, 40" for the BL, 48" for the BN, and 60" for the BD series. This of course can be requested differently if you like, it is not an absolute.

All handles are made to order. With all the custom options, there are potentially millions of possible sizes. Length, height, CTC ratio, standoff height, all can be altered from the default ratios or sizes. PLAN FOR a 2 to 3 week production time for most orders. A bit longer on huge orders.

How to place your order, or request a quotation first:
Our ordering form will have fields as shown below in this graphic:
We have outlined the Series differences above, the designated bar diameters, letter codes: BF, BS, BJ, BL, BN, and BD. Part number examples: ARH-BS.custom24 represents 16 different sizes in the 1/2" bar diameter. That means 23-1/16", 23-1/8", 23-3/16", etc. up to 24". Pulls are priced by the inch, but each part number represents 16 potential lengths. On our
ordering and quotation form
, you will select a bar diameter from a drop down list, and then enter your OL (overall length) to the sixteenth of an inch.
Another column, Handle style, pertains to the
Standard style
, basically the information we covered on this page. And then the
End to End Style
and
Back to Back mounted style
, covered on their repective pages. (The form appears as columns on a PC and Tablet. On a smartphone, it is one long column with the LINE numbers preceding each grouping.)
If your CTC (center to center) needs to be something other than 2-1/2" less than OL, then you will enter that sizing too. The 2-1/2" default ratio gives a nice tail length to the ends of each handle. This is great for a new kitchen or a remodel. But sometimes you need that differently. So oddball CTC sizes in ratio to OL can be requested. Examples of the standard 2-1/2" ratio: an 8" long handle would have a 5-1/2" CTC. A 29-5/16" long handle would have a 26-13/16" CTC. Questions?
E-mail us
If you need any additional customizing, such as with the standoff height, the comments fields on the order form can be used for that. 1" underside clearance is the default for all bar size standoffs. Shorter or taller is allowed for special applications. Or if you need to omit a 3rd leg in longer handles, or place a 3rd leg other than dead center in the length of the handle, many alterations can be done.
Arthur Harris knobs and T-pulls can also be requested on this order form and do not necessarily need to be ordered through the shopping cart. When you send the form data in, the website will re-direct you to a page where you can enter your credit card details and finalize your order if you like. Or, you can ignore that page and we will treat your submission as a quote first and then get back to you as soon as we can. If any volume discounts apply, we will calculate them in the quotation. As well as shipping costs to your area. Double check your e-mail address entered as most of the time, we will respond via e-mail.
1-11-23: Pricing will be updated soon on our website. It will take a bit of work, and we are working on it. Send us a quote request until the time we are finished.
Arthur Harris website section pages: