End Style Stainless Steel Door Pulls
Arthur Harris section index
Arthur Harris End to End Style brushed stainless steel handles
The Arthur Harris End to End Style handle is a derivative of their standard style. Same bar diameters available. Same brushed stainless steel finish on solid stainless steel bars. And you can order them in the custom sizes that you need. The standoffs (legs) on the End to End Style are positioned at their furthest outward spacing for the bar length. In the paragraph further down titled Dimensions and Bar Diameters, we list what the greatest CTC to OL is for each diameter. Smallest overall lengths for the BN and BD larger diameters is 8". Anything smaller than that looks a little silly in those chunkier bars.
The End to End style can be taken a step further and be made with the
Back to Back mounting
application. Thus you can have a handle directly opposite another on the other side of a passage way door without having to offset them from each other to get the bolts through, with the standoffs at the ends of the handles. No tails. Pricing will be shown on the
Back to Back Mounted handles
page. (Pricing on Back to Back mounted handles is calculated at handle one + handle two + $40 for the back to back set up and alteration. More explained on that page.)
All handles are made to the sixteenth of an inch in length. So if you need some at 10" long and a few at 12-1/4", do so. Handles can be mounted vertically or horizontally. Traditionally, the handle length generally runs with the longest measurement of the door or drawer front it is mounted upon. But personal preference gives you the option of mounting them horizontally across the top of your base cabinets if you wish. You can always test the look you want in advance with a simple trick. Run out to Home Depot, buy a wooden down rod in the diameter of the handles you are considering getting. Take it home and hold it up against your cabinets. If you need to cut it down for a more appropriate estimate of the look, you can. It might help with your planning. And just because the handles come in all kinds of crazy sizes, doesn't mean you have to do that. If you want 8" long pulls in your entire kitchen, have them made that way. Or to whatever size. The Standard style European Railing has become quite popular to match a pull length with a door or drawer size. But that is not how you have to do it. The BS Series (1/2" bar) in a 6" long handle was once the most popular size. Customers would order 30 to 40 of the same size handle for their entire kitchen. The custom lengths give you the option of mixing things up the way you would like.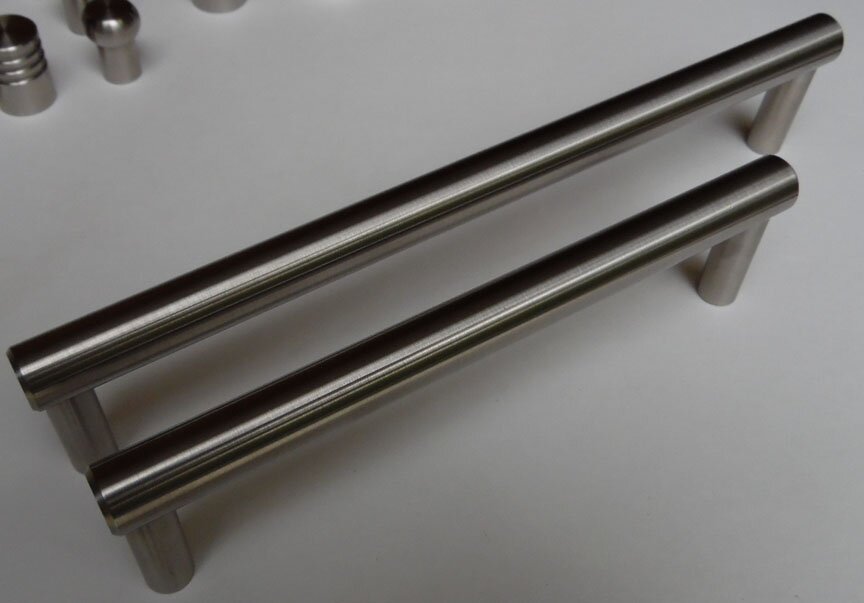 Dimensions and Bar Diameters:
The

BF Series

(smallest) bar is 3/8" dia., standoffs (legs) are 5/16" dia., overall height 1-3/8",

CTC comes out to 7/16" less than OL




The

BS Series

(most popular) bar is 1/2" dia., standoffs (legs) are 3/8" dia., overall height 1-1/2",

CTC comes out to 1/2" less than OL




The

BJ Series

bar is 5/8" dia., standoffs (legs) are 1/2" dia., overall height 1-5/8",

CTC comes out to 5/8" less than OL




The

BL Series

bar is 3/4" dia., standoffs (legs) are 5/8" dia., overall height 1-3/4",

CTC comes out to 3/4" less than OL.




The

BN Series

bar is 7/8" dia., standoffs (legs) are 5/8" dia., overall height 1-7/8",

CTC comes out to 3/4" less than OL.




The

BD Series

(largest) bar is 1" dia., standoffs (legs) are 3/4" dia., overall height 2",

CTC comes out to 7/8" less than OL.



Standoffs are meant to yield a 1" underside clearance. This can be altered too upon request.
On the BF series (3/8" bar), the maximum length allowed is 35" due to machining safety standards. The other 5 diameters can be made up to 96" long.
Eclectic-ware offers Arthur Harris Volume Discounts:
For quantities of 25 to 49, 10% off the prices shown below.
For quantities of 50 to 99, 15% off.
And for quantities of 100 or more, 20% off.
Mix and match knobs and pulls or sizes to meet quantity discounts!
Facts about each Series:
Pull ends are machined beveled for a smooth feel.

All overall lengths are made to the sixteenth of an inch. You do NOT need to round off to whole numbers. Order special sizes, it's okay!

All standoffs (legs) are 1" tall, thus you have 1" of space on the underside of the handles. Standoffs seat into the handles for a very strong fit.

All CTC (center to centers) for the End to End style are at maxium allowed for the bar length choice. Placed as far to the ends as possible. As shown in the picture directly above.

A third standoff (leg) is added to handles at 30" for the BF, 32" for the BS, 32" for the BJ, 40" for the BL, 48" for the BN, and 60" for the BD series. This of course can be requested differently if you like, it is not an absolute. It is meant for extra mounting strength.

All handles are made to order. PLAN FOR a 2 to 3 week production time for most orders. A bit longer on huge orders.

How to place your order, or request a quotation first:
Our ordering form will have fields as shown below in this graphic:
We have outlined the Series differences above, the designated bar diameters, letter codes: BF, BS, BJ, BL, BN, and BD.
Our part numbering order system is being updated right now (1-11-23).
Part number example: ARH-BS.end8 represents 16 different sizes in the 1/2" bar diameter. That means 7-1/16", 7-1/8", 7-3/16", etc. up to 8". Pulls are priced by the inch, but each part number represents 16 potential lengths. On our
ordering and quotation form
, you will select a bar diameter from a drop down list, and then enter your OL (overall length) to the sixteenth of an inch.
Another column, Handle style, pertains to the
End to End style
, basically the information covered on this page. And then the
Standard style
and
Back to Back mounted style
, covered on their repective pages. (The form appears as columns on a PC and Tablet. On a smartphone, it is one long column with the LINE numbers preceding each grouping.)
The CTC for the End to End style will be made to the maximum allowed in relation to the OL you requested, you can leave that blank. IF, you are matching to pre-existing bored holes, and it is easier for you to fill in your CTC's needed instead of OL's, you can do it that way. Higher on the page under the heading Dimensions and Bar diameters, we did state the maximum CTC for each bar diameter. So if you size them by CTC, you can leave the OL fields blank.
Questions?
E-mail us
If you need any additional customizing, such as with the standoff height, the comments fields on the order form can be used for that. 1" underside clearance is the default for all bar size standoffs. Shorter or taller is allowed for special applications. Usually, the End to End style is used in shorter lengths from around 3" long to 24 to 30". When customers use longer bar sizes, they are generally in the Standard style. But everything is custom, do as you like. If you need a 49" long End to End style handle with a third standoff in the center, get it that way.
When you send your form data in, the website will re-direct you to a page where you can enter your credit card details and finalize your order if you like. Or, you can ignore that page and we will treat your submission as a quote first and then get back to you as soon as we can. If any volume discounts apply, we will calculate them in the quotation. As well as shipping costs to your area. Double check your e-mail address entered as most of the time, we will respond via e-mail.
Until we can update part numbers and pricing on this web page, you can open the
ordering and quotation form
here. Because of the tens of thousands of sizes that can be created with the End to End style, Arthur Harris custom made handles are not shopping cart friendly (but we are working on a plan). Your quote/order will be processed by a real person. If you screw it up, a real person will let you know - politely. You don't have to worry about the frustration of being thrown into one of those infamous robot loops telling you something is wrong on the form. The form is not interactive, but I am. Yes, for the most part, the guy writing this web page right now will be the one processing or calculating your order. Please always ask for help when you need it if you find anything not explained well enough.
Arthur Harris website section pages: