Back to Back Mounted Door Handles
Arthur Harris section index
Arthur Harris Back to Back Mounted stainless steel door handles
Arthur Harris continues to dazzle us with the custom options of their door handles. The Back to Back Mounted handles allow you to have a handle on each side of a door directly opposite each other. The standoffs (legs) on one handle are modified to accept the through-bolt to slide into the legs and then tighten down with set screws tightened by an Allen wrench. The through-bolts will thread into the first handle by turning them into the legs. Then they will pass through the holes in your door, the second handle you slide in place and then lock it down.
The Back to Back handles are available in bar diameters from the 1/2" all the way to the 1". The smaller BF series is not made in the back to back option. As with their standard handles, the Back to Back can also be made in any length. If you have pre-existing screw holes bored through a door, the CTC can be made to accommodate existing holes. The 1/2" and 5/8" bar sizes will come with #8x32 through-bolts. The 3/4", 7/8", an 1" diameters will come with a bigger and stronger 1/4x20 through-bolts. Through-bolts supplied will be pre-cut to a length that you specified for your door thickness. So it is important to know how thick of a door you plan to mount the two handles upon. Handles can be mounted to passage way doors, closet doors, glass doors, barn doors, or wherever you require a set to be. Generally, on a typical kitchen cabinet door, such a mounting would never be needed. This concept is suited for doors where entry or exit occurs from both sides.
All handles are made to the sixteenth of an inch in length. Order any length that you require. In most cases, Back to Back handles are mounted vertically on doors, this would seem to be the more natural way to grab them. We suppose in some applications, a horizontal mount could occur. That would be up to you.
The BN Series, 7/8" bar, is certainly the most popular of the 3 larger diameters for the back to back application. They have a good feel when you grab them, they look aesthetically pleasing, and they are very strong in longer lengths. The BS Series, 1/2" bar, also seems to be extremely popular in hotel renovations, especially in a 12" length. Just an observation of ours - based on quite a few sales too. We do suggest, in applications where a door will substain higher traffic use, best to use one of the three largest diameters due to the 1/4x20 through bolts. It is a far stronger mount and will hold up to tugging far better. And for heavier doors, it is highly advised. For lighter use, and where smaller diameters are desired, the 1/2" and 5/8" bars are just fine.
A Back to Back set of handles will consist of the two handles, the leg modification on one handle for the set screws, through bolts, and the Allen wrench. Thus the cost has been calculated as handle one + handle two + $40 for the back to back modification - per set. Volume discounts apply to the Back to Back Mounted handles too. On larger orders of 400 handles or more (200 sets), we can go another notch better on the volume discount as well, offering 25% off.
If you have any questions prior to order, please call or
e-mail us
.
Dimensions and Bar Diameters:
The BS Series

(most popular) bar is 1/2" dia., standoffs (legs) are 3/8" dia., overall height 1-1/2"



The BJ Series bar is 5/8" dia., standoffs (legs) are 1/2" dia., overall height 1-5/8"

The BL Series bar is 3/4" dia., standoffs (legs) are 5/8" dia., overall height 1-3/4"

The BN Series bar is 7/8" dia., standoffs (legs) are 5/8" dia., overall height 1-7/8"

The BD Series (largest) bar is 1" dia., standoffs (legs) are 3/4" dia., overall height 2"

Standoffs are meant to yield a 1" underside clearance. This can be altered too upon request. Sometimes a favorable option for larger diameters when these handles are used in commercial applications.
Eclectic-ware offers Arthur Harris Volume Discounts:
For quantities of 25 to 49, 10% off the prices shown below.
For quantities of 50 to 99, 15% off.
And for quantities of 100 or more, 20% off.
Mix and match knobs and pulls or sizes to meet quantity discounts!
On the Back to Back handles, volume is calculated differently:
Technically 13 sets is 26 handles and thus eligible for the first discount tier.
And so on....
Facts about each Series: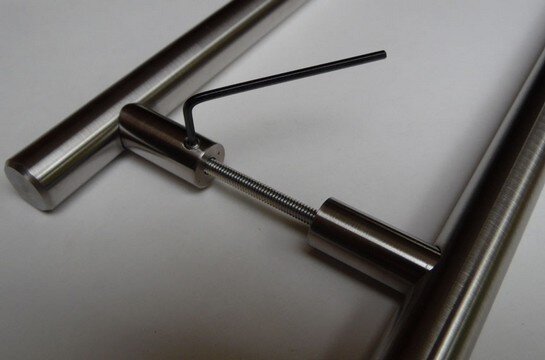 Pull ends are machined beveled for a smooth feel.

All overall lengths are made to the sixteenth of an inch. You do NOT need to round off to whole numbers. Order special sizes, it's okay!

All standoffs (legs) are 1" tall by default, thus you have 1" of space on the underside of the handles. Standoffs seat into the handles for a very strong fit.

All CTC (center to centers) are 2-1/2" less than OL (overall length) - as the default ratio of making them.

Custom CTC measurements other than the default 2-1/2" ratio, and custom standoff heights can also be done. Set up charges "might" apply on orders containing many changes, or really tall standoffs.

A third standoff (leg) will most likely be added to handles at 32" for the BS, 32" for the BJ, 40" for the BL, 48" for the BN, and 60" for the BD series. If your handle selections are just a little longer than that schedule, a third leg can be omitted by your request. Everything is custom and thus there is great flexibility is setting up your order.

Appropriate length through-bolts will be supplied with each pair of handles for the door thickness you need. The BS and BJ series use #8x32 machine bolts. The BL, BN, and BD larger diameters will have 1/4x20 through bolts - much stronger in anticipation of use on larger doors or in commercial applications.
PLAN FOR a 2 to 4 week production time for most Back to Back Mounted handle orders. A bit longer on very large orders.

How to place your order, or request a quotation first:
Our ordering form will have fields as shown below in this graphic:
We explained the bar diameter sizes above, letter codes: BS, BJ, BL, BN, and BD. Our part numbers and pricing is being updated right now (1-11-23). For example: ARH-BN.back-back18 represents 16 different lengths in a 7/8" bar from 17-1/16" up to 18". Handles are priced by the inch, but each part number represents 16 potential lengths. On our
ordering and quotation form
, you will select a bar diameter from a drop down list, and then enter your OL (overall length) to the sixteenth of an inch.
Another column, Handle style, pertains to the
Back to Back style
, basically the information we covered on this page. And then the
Standard style
and
End to End Style
, covered on their repective pages. (The form appears as columns on a PC and Tablet. On a smartphone, it is one long column with the LINE numbers preceding each grouping.)
If your CTC (center to center) needs to be something other than 2-1/2" less than OL, then you will enter that sizing too. The 2-1/2" default ratio gives a nice tail length to the ends of each handle. This is the normal way. But sometimes you need that differently. So oddball CTC sizes in ratio to OL can be requested. Examples of the standard 2-1/2" ratio: a 12" long handle would have a 9-1/2" CTC. A 29-5/16" long handle would have a 26-13/16" CTC. Questions?
E-mail us
Near the end of the form, there is a comments field to enter your DOOR THICKNESS. Very important information for the proper length through-bolts to be supplied. If by chance you have multiple door thicknesses for various handles, please try to explain it to us by Line number. Again, the form is not automatic, a real person will review your data.
If you need the End to End style handles in a Back to Back mount, this can be done too. And we have comments fields on our order form where you can supply more information about such a request. From our experience, most Back to Back handle orders have been made the normal way with the tails on each end of the handles.
If you need any additional customizing, such as with the standoff height, the comments fields on the order form can be used for that. 1" underside clearance is the default for all bar size standoffs. Shorter or taller is allowed for special applications. Or if you need to omit a 3rd leg in longer handles, or anything else, many alterations can be done and noted in our comments fields.
When you send the form data in, the website will re-direct you to a page where you can enter your credit card details and finalize your order if you like. Or, you can ignore that page and we will treat your submission as a quote first and then get back to you as soon as we can. If any volume discounts apply, we will calculate them in the quotation. As well as shipping costs to your area. Double check your e-mail address entered as most of the time, we will respond via e-mail.
The five price grids that were below are being adapted to a new way of doing this. For now, use our
ordering and quotation form
to get a quotation on these handles.
We are updating this page (1-11-23). You can open the
ordering and quotation form
here. Because of the vastly numerous combinations that can be created, Arthur Harris custom made handles are not as easy as just drop them in the shopping cart and then let the robot get overly confused about it. Your order will be processed by a real person. If you are choosing to have a quotation first, also done by a real person. This form is not interactive, but the person who will review the results is. If you are choosing to continue with your order now, please fill in your payment info after the send button takes you to the next page. Otherwise, we will treat this as a quotation request and get back to you shortly. Thank you.
Arthur Harris website section pages: