How to Recess LED Cabinet Lights
Click or Tap the orange menu button to view all Estar LED Tech page links
How to Recess your LED Cabinet Lights
This is a help page. We have three product pages set up for the LED lights and accessories:
LED dimming accessories (coming soon)
On those three pages you will find the lights, drivers, trim rings, surface rings, terminal block extenders, and extension wires that you can order. On this page, you will find instructions and answers. Some of our thorough and long winded help sessions.
What is recessed mounting vs. surface mounting?
For under cabinet LED lights, or in-cabinet lights, you have two options. Recessed mounting requires boring a hole in your woodwork, or whatever surface you are mounting the light INTO. Be it metal, a boat headliner, plastic, wood, or even drywall in some drop down ceiling applications, your light will be fitted into your surface. Thus, the trim ring portion of the light will barely stick down from the surface, just a spec over 1/8".
Generally the attached lead wire on the light will feed out the backside of the recessed hole that you bore. For new installations, it is reccommended to bore a 60mm hole. But we tested this light, it can fit in various size holes. One being that popular 2-1/8" hole that many of the Hera Lighting halogen lights had fit into. If you have a Hera E1, KB12, H11, or KH12 light, the WD-UL008 light in this section of our website is a great substitute.
And the quick answer to what is surface mounting: No large hole is bored. Surface mount ring mounts to your surface, light snaps into that ring.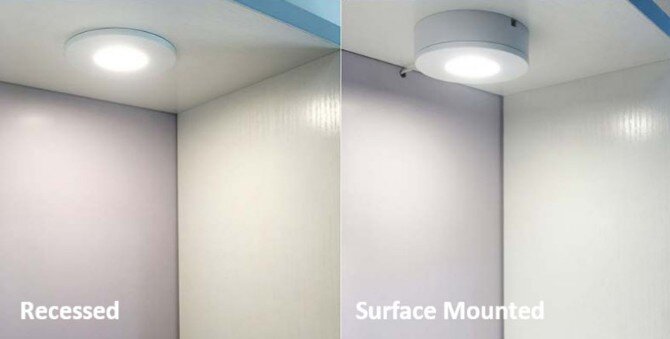 What size recessed hole is needed?
The manufacturer reccommends a 60mm hole for new installations. There are two friction fit clips on the back of the light. They put pressure on the walls of the recessed hole and hold the light in place. BUT, 60mm is not the only hole size they can fit into. Notice our next two pictures.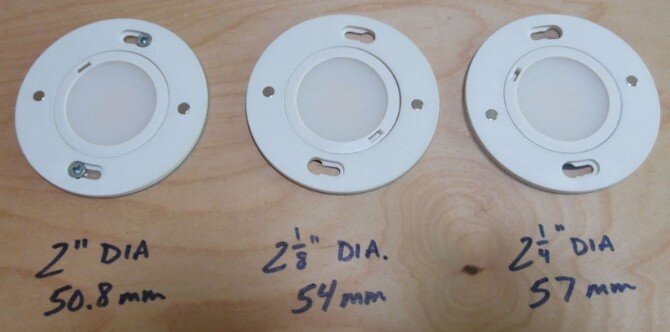 We showed a front and back view to let you see how the lights lie within the 2", 2-1/8", and 2-1/4" dia. holes. You can see from the rear view picture that there is extra room around the light when in the 2-1/4" hole, but less in the 2-1/8". In the 2-1/8", it is most certainly a snug fit. Still easy to push in, you start one side, get it in, push on the second side. The light holds well. Great news for boat owners with older Hera halogen lights. You don't have to increase the size of your hole.
But how did the light fit into the 2" hole? Take a look at these two photos:
Notice that we removed the friction fit clip assembly to allow the light to set into a 2" hole. And why did we do this. Hera Lighting had a light called the Eco-LED, also noted as the SET2LED light kit. Those 1 watt LED lights could be surface mounted or recessed. When recessed, they fit into a 2" hole. So all the other LED lights we have designed for the 2-1/8" to 2-1/4" holes would never fit. THIS LIGHT FITS. So another solution win for customers with old Hera lights. If you have the SET2LED, or your power driver says DW1X3 or something light that, the Estar LED lights can fit in your hole. DO NOTE, this is a 3 watt LED light. It will be much brighter than those old 1 watt LED lights.
The friction fit assembly is also the cable hold down clamp. Just two very tiny screws hold it in place. So you will remove it completely, and not re-install it. When you recess the light into the 2" dia. hole, the wire hold down is not essential. You will not be tugging on this wire. It will just lead off through you hole and to the location of your new LED power driver. But how does the light stay in place without the friction fit clips? Very simple, the front of the light itself has two slots for screw mounting. The center to center distance on them is 2-3/8". So when mounting into an existing 2" dia. hole, you have plenty of meat for your screws to grab into the wood. Look at this next picture showing the light with and without the trim ring. See the two screw holes. They are completely hidden when the trim ring is in place. Then we show a picture of how little the trim ring sticks downward from the surface.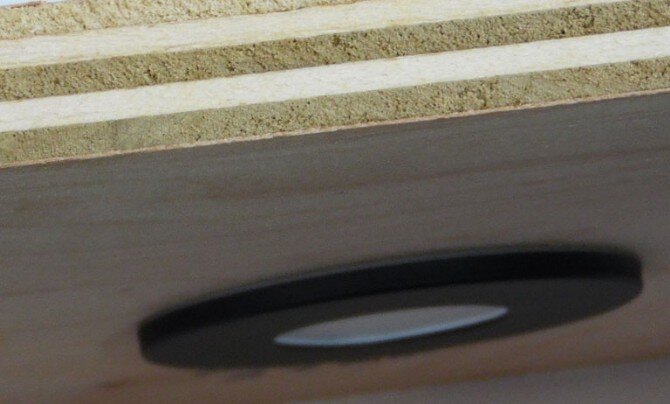 So You're Saying These Lights Will Fit in the Holes on my Carver Yacht?
YES! This is why we made our little piece of plywood with several holes cut into it with our hole saw kit, and we tested the light in the 2-1/8" hole. And this is the main reason we sought out this light. So our customers with existing Hera halogen lights can fit this light into the 2-1/8" hole. And those with older Tresco lights can fit it into the 2-1/4" hole. As for the 2-3/8" hole, this light is designed for that to begin with. And for anyone who has a 2-1/2" hole, which most likely is not very common, the friction fit clips can be bent outward to hold in that large of a hole. You do want to bend them gently and just a little. And you can test how the light holds into the hole by simply just pulling it back out. If it falls out too easy, you would bend the clips outward a little more. If it gave you a little resistance in wanting to come out, you did well.
Here is a diagram from Estar LED Tech Co. showing the light surface mounted and recess mounted.
Note that it is saying that the thickness of the material that the light is passing through must be at least 6mm thick, that is 1/4". But the depth space you need to recess the light is 3/4". The friction fit clips need something to hold onto, that is why the min of the 1/4" material thickness. But, again, the lights can be screw mounted from the front. So say you were mounting your light into 1/16" thick stainless steel, you can screw mount it from the front. And when the Trim Ring is in place, you never see the screw holes. So the diagram could use a little tweeking. Thus we just discovered another use for this light. Many Abbaka hood owners need to replace their old halogen lights, quite commonly the Hera KB12 light. This light will work. You would just need to drill two screw holes into your stainless steel and mount the light with two short screws. (I can suggest trying the light first without any extra drilling. The friction fit clips may catch behind the stainless steel and hold the light just fine. Kinda have to use your own judgement on this one as the thickness of your stainless steel could vary. Make sure you have all the wires in place first. Because if the clips catch "behind" the stainless steel, you may have a very difficult time getting the light back out.)
How do all the parts on this LED light assemble to each other?
This is a great little light. Really. You can recess or surface mount it. You can choose from 5 finish options. It can fit in various hole sizes. And all components come separately, so you can buy just what you need. You will need the light, and then the trim ring. The surface mount ring will only be needed for surface mount applications. Next two pictures show the light, trim ring, and surface ring separated. And then all put together. Notice that you do not see any of the white portion of the light when all 3 pieces are together. A very well engineered light that is very decorative.
Conclusion
If purchasing these lights for a new assembly, and recess mounting, you will want to bore a 60mm hole (2-3/8"). If your cabinets have false bottoms, or you create false bottoms with a large enough light rail or face frame drop down, most guys would use a hole saw to bore their holes. But if boring into the bottom of a cabinet, or the bottom side to the top of an upper cabinet for an in-cabinet installation, remember that the light NEEDS 3/4" of depth space to fit. On the inside top of upper cabinets, not a big deal if you bore through. Who is going to see the tops of your cabinets seven feet up there? And that can make wiring really easy too. But on the bottom side of your upper cabinets where most likely they have only a 3/4" thick bottom, you would end up boring all the way through. And that might not be good. You do not want to set your dishes, glasses, cereal, or the coffee can hiding your secret cash stash right on top of the lights. You might have to lay a piece of 1/4" plywood fitted to the insides of your cabinets to cover over the lights and their wires. The false bottom is always better, if your cabinetry can accommodate it.
That was for new installs. If you are retrofitting old lights, all that cabinet boring stuff is already done. Your biggest challenge might be running the wires back to the location of where you will fit the LED power driver. On the
LED Power Driver page
, we have a diagram for it and its measurements listed. In the old days, many cabinet makers and woodworkers liked to sneak the Hera halogen transformers through that 2-1/8" hole, or larger holes for some of their other lights, and set it inside a false bottom. Or in a wall. Or in a base cabinet. In the basement. In the attic, etc.. Over the last 20+ years, we have heard all the stories about the Hunt for the Halogen Transformer. More elusive than the Red October. Your transformer, and in many cases plural, yep, you have mutltiple transformers if you have more than three 20-watt halogen lights, can be hidden or trapped in most anywhere. And since the new LED driver is wider and longer, it may not snake through that 2-1/8" hole. Creativity in the placement of all your components may need some brainstorming.
So before you begin your upgrade or transformation from halogen to LED, find your transformers. Usually little bluish things or white. Sometimes black if from other manufacturers. You need to know how much trouble you are about to get into with restringing wires. In some cases, it will be real easy. In others, have the Tylenol ready.
We do offer design and retrofitting assistance over the phone and via e-mail. When you have question, let us know. We can help to the best of our abilities.
Final thought
If you are planning on reusing your existing low voltage wiring in the wall, you can. Do note, with LED lights, there is a positive and negative side to the twin wire. You need to keep that polarity correct - on both ends when you are splicing. Because you will be splicing the light to the wires on the hole side where it will push in. And then the coupler and pigtail that you had cut off the wire will be spliced back on to the opposite end where the LED power driver will be located. Make sure that the wires you are splicing into are easily identified so you get the correct ends re-spliced onto the other end. AND be gentle. This is braided copper wire, very easy to damage with the wrong tools. Cut and strip with the proper size gauge hole on your wire cutters. Crimp with the proper size butt connectors. And no need to be Sampson on those butt connectors. Wire slides in, you are just flattening the soft metal inside their insulated casing. You do it easy, but enough to hold. If you squeeze too much, you run the risk of breaking all the wires. Electricians know this stuff. Well over half the time, it will be the homeowner installing these lights himself. Just go about it easy.
Estar LED Tech Lighting web page links: