Deluxe Keyboard Pull Out Tray from Accuride
Accuride Deluxe Keyboard Slide Out and Comfort Aid
The KT300 (our shortened part number for CBERGO-TRAY300) is ergonomically designed for your comfort and to minimize repetitive stress injuries. The mouse pad is removable for left or right hand operation. Extra wide tray design provides ample mousing surface. The gel palm rest can be removed to accommodate virtually any size keyboard. The keyboard platform angles for added user comfort. Storage containers for pens, self-stick note pads, paper clips, and CD ROMs. Full extension ball bearing slides for smooth quiet movement. System easily hides when not in use. Black finish.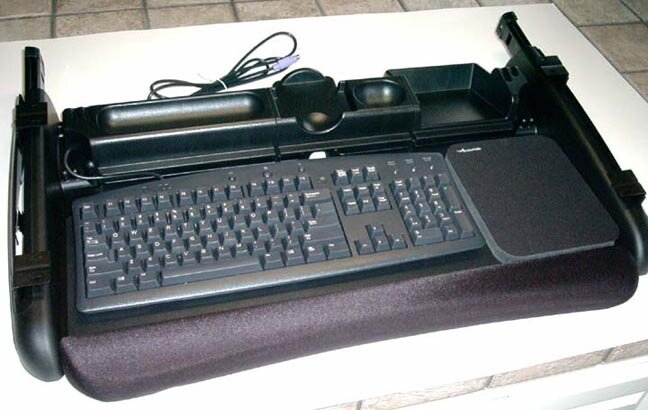 Manufacturer: Accuride
Accuride CBERGO-TRAY300 Deluxe Keyboard System, comes with gel wrist rest, thick mouse pad, and tray compartment to organize some of your desktop items. Slides straight out.
Add
Additional views of the individual areas of the deluxe keyboard pull out. The mouse pad, gel wrist rest, compartments, and the reversible built in mounting brackets.
The reversible mounting brackets attach easily to underside of your desk. Brackets can flip inward or outward prior to mounting. Compartments offer plenty of room to store what you need.
To view the actual installation instructions for the KT300 Deluxe keyboard system, please click this file link to open an Adobe Acrobat PDF file:
TRAY300 instructions
Accuride web pages: