3D Laminate Cabinet Door Color Selections
Brushy Creek Custom Doors section index
Brushy Creek Custom Doors 3D Laminate Color Selections
Every door design: Square, Arch, Slab, Mission, etc. is available in all of the below colors. Every door profile choice: Charleston, Heartland, Raleigh, Hancock, etc., no restriction on whichever color you would like to select. Wine racks, valances, and molding pieces, all available in all the below colors. And there are approx. 70 colors. That is an incredible amount of choices in which how your kitchen, bathroom, or furniture project can come to life.
The color groupings below will be separated into the 5 categories that Brushy Creek has assigned.
Solids: even color tones, mostly whites and light colors, but some greys and black too.

Woodgrains: smooth or almost smooth woodgrain colors from light to dark. Maple, Oak, Cherry, Apple, Mahogany and a large selection of others.

Authentic Grains: deeper grain cuts with a mix of flat and low sheen reflection to make it look more like real finished wood. Visible knots too.

Abstracts: Non-wood look colors such as a brushed silver to give a stainless steel appearance.

Textures: More like a rough sawn wood texture, a much deeper feel to the woodgrain.

The entire appearance side of a door, drawer front, molding or other item is wrapped in your laminate color selection. All door edges are a continuation of the front. On the back of your doors, you have an option.
a) You can opt to have a white or black melamine back to your doors. This is the most common choice and the way most door producers make thermal foil and 3D laminate doors. On white and off white doors, you would have a white back. On black, and maybe the grey tones, you can select a black, or a white back if you like.
b) For many of the Woodgrains colors, you can opt to have a matching woodgrain back. Thus, when you swing your door open and see the backside, you can have a matching woodgrain. We will note below in the color selections which 3D laminates have a matching back availability. This option does cost a little more per square foot, but only a little bit more. It is nice to see the woodgrain on the back of the door also. And it is only a personal choice. Normally, when a door is closed, you have no idea of how the back looks. And when it is open, it is only open for a very short time. So you can select a white, black, or matching woodgrain back to your doors.
For drawer fronts, it does not make much sense to get a matching woodgrain back. Drawer fronts do not swing open. When you do pull a drawer forward, most of its back is concealed by the drawer box. Only a small perimeter could be seen if you lean over and look. So for drawer fronts, you could opt for a matching back, but there just isn't too much sense in it. For black or very dark tone woodgrains, we would suggest requesting a black melamine back for drawer fronts.
On frame only and mullion doors, a matching woodgrain back, when available, is very nice. Our preference would be to choose matching woodgrain backs for mullion and frame only doors. BUT, when mixed in your kitchen with raised panel or shaker style doors, be consistant. Choose to have all the doors with matching backs, or choose to have them all have white melamine or black melamine backs.
On furniture, matching woodgrain backs is also a very nice option to go with.
Now the colors. Solids first:
Suggestion: Color 3 Alpine White is the most popular white choice and priced less than the other colors.
Because it is near impossible to see the difference in the whites on a computer, tablet, or phone screen, here is a little more help with some definitions of the colors. We took a couple of group pictures, and numbered the colors in each for the whites, greys, and off whites. Below the pictures we will explain a bit.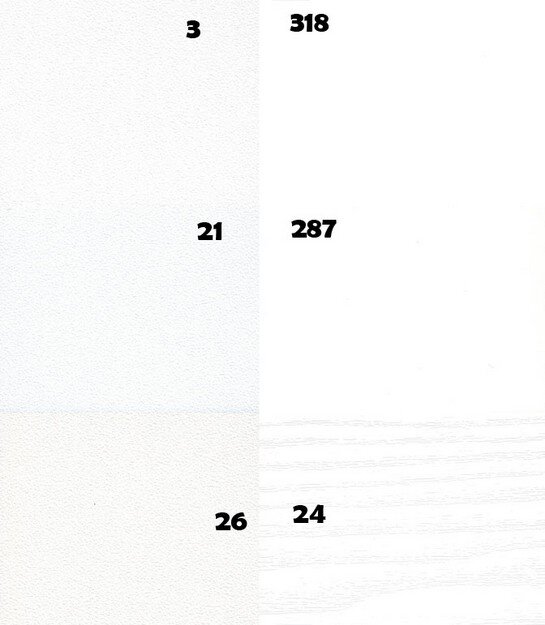 Color 3 Alpine White, the most popular white, and lower cost because of that. A very clean satin white with the faintest texture.

Color 21 Designer White, same faint texture. Has the smallest amount of a tint to it. Hard to tell, but when against Alpine White, you can see it has a faint hue.

Color 26 Frosty White, same faint texture. Kind of a warm white, or the faintest possible bone that could happen.

Color 318 Tactile White, 100% smooth and like an eggshell sheen, but glass-like feel. Very white, no sign of a hue to it. So a super clean 100% smooth white in a low low sheen.

Color 287 Matte White, 100% smooth also, but a matte feel, not as slick as the Tactile White. And the color seems to correspond with the Frosty White.

Color 24 Embossed White Wood has a woodgrain texture. It is completely white, the greyish lines you see are the grains and the reflection from our scanner glass. It is all white and you see the grain more so when light reflects off it at an angle. Pretty much the same white as Alpine White.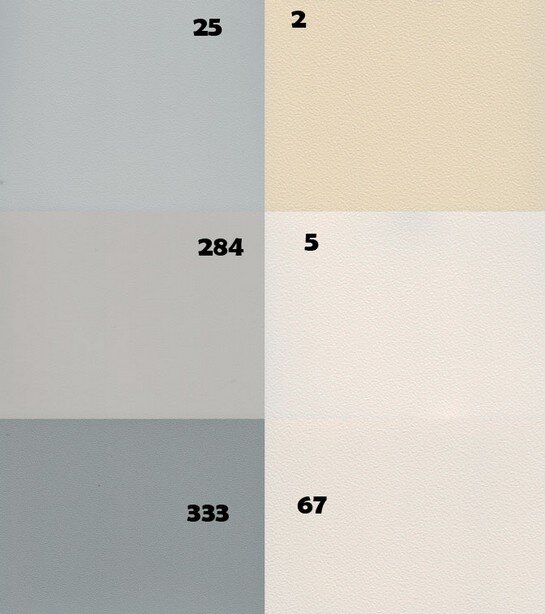 Color 25 Folkstone Grey, an extremely nice light grey. Has very faint texture. Light satin sheen.

Color 284 Cool Grey, kind of a warm or tender grey, there is a tiny hue of brown mixed in. Has extremely faint texture. Light satin sheen.

Color 333 Fog Grey, getting more into a light-medium grey tone, a bit silvery. Has a faint texture. More of an eggshell sheen, almost matte.

Color 2 Almond, pretty much a normal almond. It is the darker of the three off whites. Has a faint texture and satin sheen to it.

Color 5 Antique White, the lightest of the three off whites. Could be considered a bone tone. Has a faint textue and satin sheen.

Color 67 Bisque, the inbetween color, just a slightly darker version of the antique white. Faint texture and satin sheen.

Now the Woodgrains colors:
Smooth to extremely light texture
Now the Authentic Grain colors:
Medium texture depth, change in sheen to reflect real wood finish appearance, visible knots
The Textures colors:
Deep feel to the grains and patterns
You will enter your color selection on the
quotation and ordering form
. Along with your choice for the color of the back of the doors.
If you are uncertain about your color choice, there is no minimum order. You can order one door or drawer front to test it out first. It will be yours to keep because all are custom made. But you do not have to commit to a full order if you are not sure about your color choice. The whites and solids are easy, but there are a lot of woodgrain colors. We feel the images are represted very clearly on our website. We just want to give you the option of a one-door order first. Order it in one of the sizes you will be using, because if it meets your need, one down, the rest to go.
The links below are found on all our Brushy Creek Custom Doors web pages for your quick convenience to jump around. The quotation and ordering page should open in a new tab or window, on some devices it may open in the same window. If you have any questions on how to order your cabinetry doors and accessories, we do have a helpful explanation on the Brushy Creek summary page. You are also welcome to call or
e-mail us
.
Brushy Creek Custom Doors web pages: