3D Laminate Slab Kitchen Doors and Drawers
Brushy Creek Custom Doors section index
Brushy Creek Custom Doors Slab Door Choices
This page is all about Slab Cabinet Doors and Drawer Fronts. A
Slab Door
is a simple door and drawer front style, yet elegant and depending upon the color selection, can be made to look very modern. Slab is flat, all the way across except for the edge profile that you select. Any of the six edge choices can be selected for standard slab doors and matching drawer fronts. And there are 3 specialty Slab doors with special deeper inward cut edges, and drawer fronts to match to them also.
Additionally, if you wanted to mix slab drawer fronts with
raised panel
or
flat panel doors
, you can. Slab doors are not Shaker Doors. Slab doors are thick and flat all across the front.
Shaker Style Doors
have a sunken flat panel with a framed look around them. Both styles are quite popular.
Slab doors are square (rectangular) door styles only. So the page we have set up for Door Styles, you can ignore. Nothing on that page will apply to the slab doors. Slab doors do not have to have a square edge. You can select from any of the 6 edge choices or the specialty slab designs. We will say more traditional Slab doors do have more of a square edge, especially for that tight modern look. So the Square or 1/4 Round Over edge are the two more popular edge choices. But choose what appeals to you.
You may have seen in magazine pictures of kitchens from Miami, Florida. Kitchens that are near completely white and have these solid looking flat door faces. That would be a standard slab door and drawer front choice from a web page like this. Slab doors can be made with
finger pulls
. More info shown toward the bottom of that page. Finger Pulls allow you a place to slip your fingers in on the door edge to open it without the need for cabinet knobs or drawer pulls. Many modern kitchen forego cabinet hardware on the faces of the doors. Whenever questions arise, please do feel free to
ask us
.
On slab drawer fronts, you do have the option of horizontal or vertical grain on the woodgrain patterns. You would specify this on the order form. Doors are generally made with a vertical grain. For solid colors, there is no grain direction. Textured wood grain patterns on slab doors are pretty darn cool. Very realistic look, and many rustic looks can be created. Kind of the anti-Miami thing of that nice bright white look.
Now, let's explore your slab door options.
Slab Door and Drawer Fronts - and Specialty Slab Designs
What we show first: A color picture of a door design, and then the black and white diagram showing the specific way the specialty edge is cut. This applies to doors and drawer fronts both. Minimum height of standard slab drawer fronts is 3". For the specialty designs it is 5-1/2". Why? The edges on the specialty designs are cut further into the door or drawer front. Thus if a drawer front is too short, all you may see is edge to edge with very little flat area between. Standard slab design has edges that do not cut in as far, and thus allows for drawer front heights as little as 3" tall. Doors will have a default vertical grain for woodgrain patterns. On the drawer fronts, it is your option to have horizontal or vertical grain. Some people like the vertical grain as it follows the flow of the doors. We kind of like the horizontal grain as it follows the flow of the longest measurement. But it is your personal preference. On solid color 3D Laminates, no worries, there is no grain.
Standard Slab Door Design
Just square, and then select from one of the 6 edges shown lower on the page.
Savannah Slab Door Design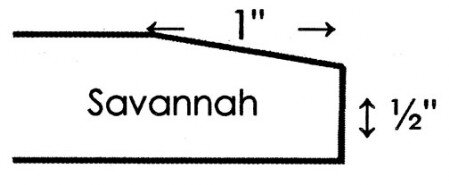 St Augustine Slab Door Design
St Augustine Slab Door specs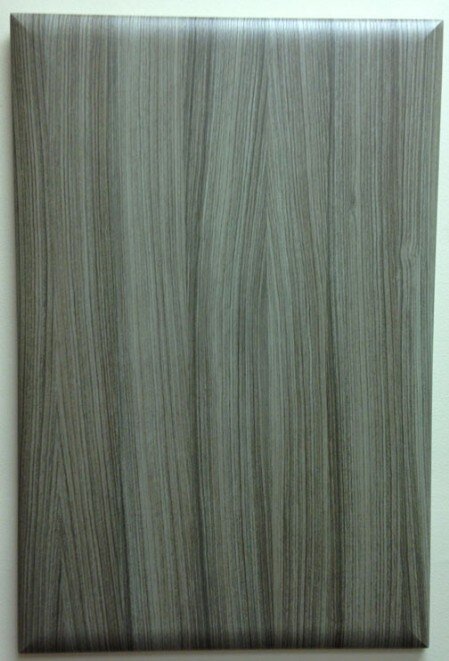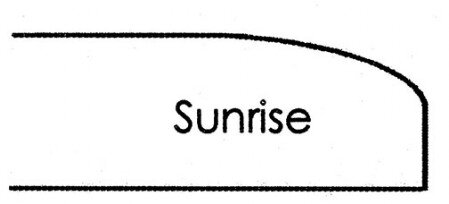 ST Augustine Drawer Front
Finger Pulls
Standard 4" or 6" wide and centered

7/16" high and 3/16" deep into the edge

Specify top OR bottom edge when ordering

Non-standard locations and placement available at extra charge

What do you do now?
If you believe you are ready to request a quotation, select the link above to use our on-line form. It has a lot of helpful notes throughout it. And we did design it to look real nice on a PC or laptop, or wide view on a tablet. If you are on a smart phone, it will appear indefinitely long, but it does work on a smart phone.
SPECIAL NOTE ABOUT FINGER PULLS AND HINGE BORING: When requesting hinge boring on a slab door, the door is bored on the left or right side. It does not matter which, you can just flip it one way or the other for your cabinet. BUT, if you select a finger pull option and then note the top or bottom of the door for the finger pull, you just defined the top of the door. Thus hinge boring MUST THEN be noted as bore right or bore left.
Thus, pick your slab door design.

And choose one of the below edge profiles for the Standard Slab Design.

Mullion and frame only doors generally DO NOT GO with slab door designs. We are not saying you cannot do it, but it really is not common.

You have to have your measurements ready.


Decide on your 3D Laminate color too.

Other options can be decided afterward. Hinge boring does have a charge associated with it, as does finger pulls or anything extra. You can add options or not add options.

The on-line quotation form will help you through it, and it should open in a new tab or window so you can leave it open and flip back and forth between pages in your other tab.

You also have our Contact Us page link and phone number at the top and bottom of all web pages.
Standard Slab Door and Drawer Fronts - Outside Edge Profiles
This refers to the very perimeter of a door or drawer front. The
Standard Slab
doors can have any of the following six edge choices. Make the doors look the way you would like them to look. And then the same edge is applied to your drawer fronts for continuity. Special Slab designs are made the way the diagrams further above show.
Finger pull options
are a common option for slab doors.
If you still have questions, you are welcome to
e-mail
or call us. This page is reference for the slab doors and drawer fronts.
When you are ready to view all the 3-D Laminate colors

, go to that page.




Extras like moldings, fillers, and matching wine racks are on their respective pages. Viewable from the text links below or from the Orange Menu Button near the top left of the page.
There are other helpful pages referring to hinges and hinge boring, measuring, and other options.
Brushy Creek Custom Doors web pages: