Shaker Style Doors for your Kitchen Cabinets
Brushy Creek Custom Doors section index
Brushy Creek Custom Doors Mission and Shaker Door Profiles
From Brushy Creek Custom Doors, their flat panel doors are technically Mission or Shaker style. Flat panel doors are
commonly referred to as shaker style doors. Yet a true shaker door will have mostly square or simple angled profiles to it. Anything scrolly or with curves to the profiles would be called just
flat panel,
such as the
Carolina Mission
door that will be shown below.
Most of the Mission and Shaker Styles do have the more squared off profiles, and even beaded flat panel looks. Matching drawer fronts are made the same way. The Carolina Mission when you look at the black and white diagram of how the inside frame profile is cut, it has a curve very similar to the Step Round edge profile.
We will show all 6 possible edge choices after the door style pictures. If your goal is Shaker style, we do recommend selecting the
Bevel
or
Square
edge. That is more true for a shaker design. Notice too, that each door style is a variation of another style. Such as the Mission and Cottage Mission. On the Cottage Mission, grooves are cut vertically across the top and bottom frame rails to give the appearance of an assembled frame. Wood doors are made from 5 pieces (4 frame pieces surrounding a panel). The 3D Laminate doors are a solid one-core door, with the design cut into them. This same illusion is repeated on the Hancock design. Gives the impression of the top and bottom rails fitted between the left and right rails. Note grain direction on doors with woodgrain laminate choices will be vertical on the entire door face.
Note too that all 3 beaded panel patterns have different grooved designs to them, one shallow and square, one with cove type cuts, and one with true raised bead look. Matching width drawer fronts will follow the same bead pattern so all lines will line up vertically from door to drawer front. This is the case when one equal width drawer front is mounted above one door. When one drawer front or false front is above two doors, it is understood the bead lines may not be on the same vertical lines, but all the left and right frame sizes will match up.
* A suggestion that we would like to offer: On flat panel and beaded flat panel drawer fronts, your inclination may be to get woodgrain laminates in a horizontal grain. This would be the normal way you would select raised panel drawer fronts, and generally slab too. But on the shaker style, with a drawer front being mounted directly above a door, it may come off looking better with a vertical grain. Especially on the beaded panels. When the grain follows the bead and groove lines, you are not crossing lines perpendicular. This is only our opinion. We feel vertical grain compliments better on shaker drawer fronts. With or without the bead lines.
Photo compliments of Bill M., one of our customers. Mission Style shaker cabinet doors and slab drawer fronts with square edges in Apline White Thermal Foil.
Now the Flat Panel Door and Drawer Front Styles
What we show first: A color picture of a flat panel door design, and then the black and white diagram showing the specific way the flat panel inside edge is cut. This applies to doors and drawer fronts both. Note: matching flat panel drawer fronts must be a minimum of 5-1/2" high. Any measurement needed under that will be made as a SLAB drawer front. We suggest vertical grain on flat panel drawer fronts. But it is your option. You can select vertical or horizontal. Horizontal grain looks great on slab drawer fronts. But on flat panel, we feel a vertical grain to match the door below it comes off looking better.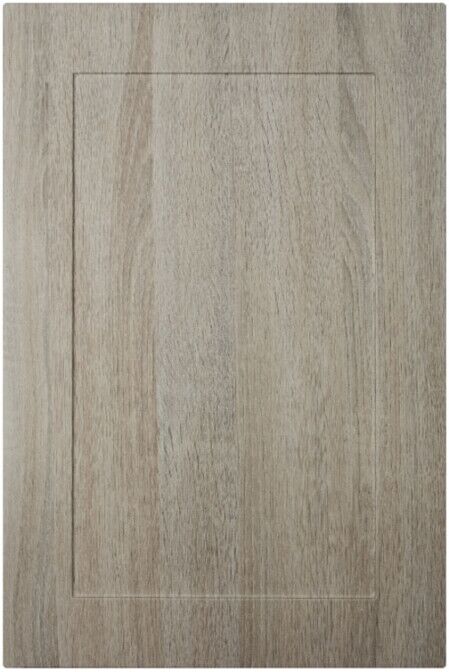 Mission Door Design
This is the true shaker style when ordered with a square edge.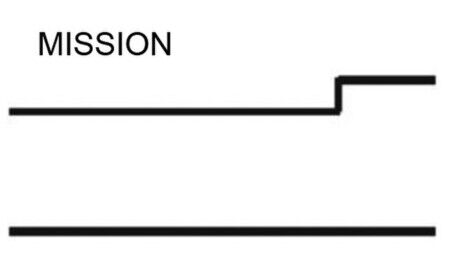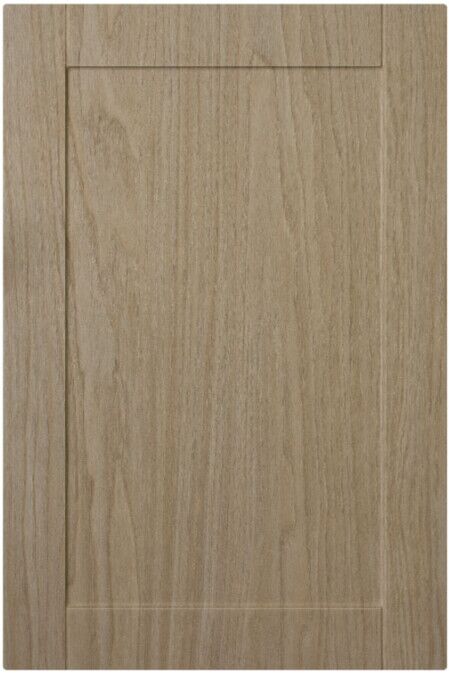 Cottage Mission Door
Has the additional cut lines in the top and bottom rails to give appearance of being a 5-piece door.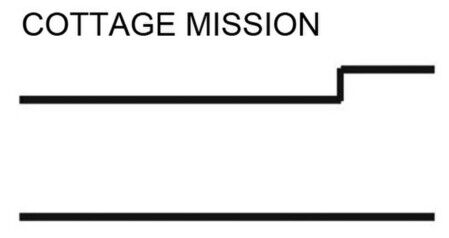 Carolina Mission Door
Notice inside cut is rounded, not straight or flat angle.
Shaker Mission Door
Has square groove cut vertical lines. Considered beaded shaker style.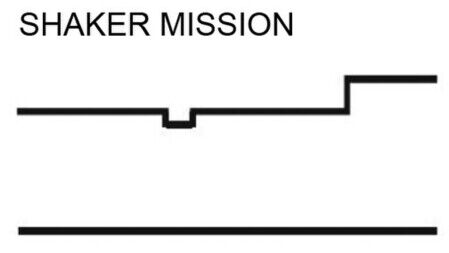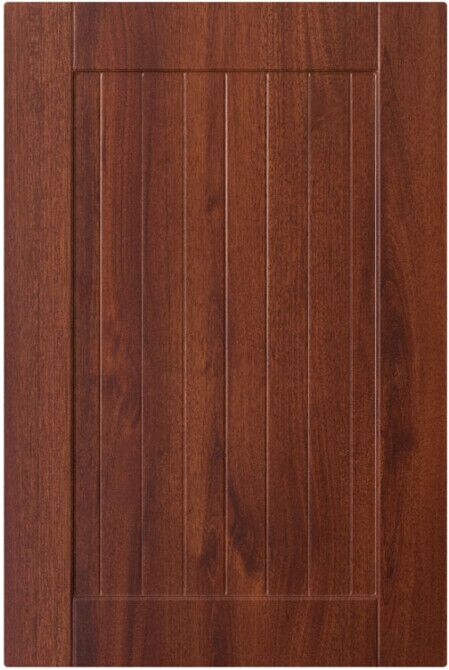 Hancock Door Design
Rounded groove vertical cut lines. Also considered beaded shaker. Give 5-piece door appearance.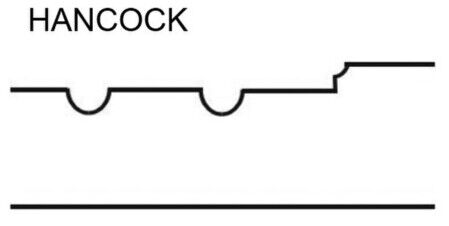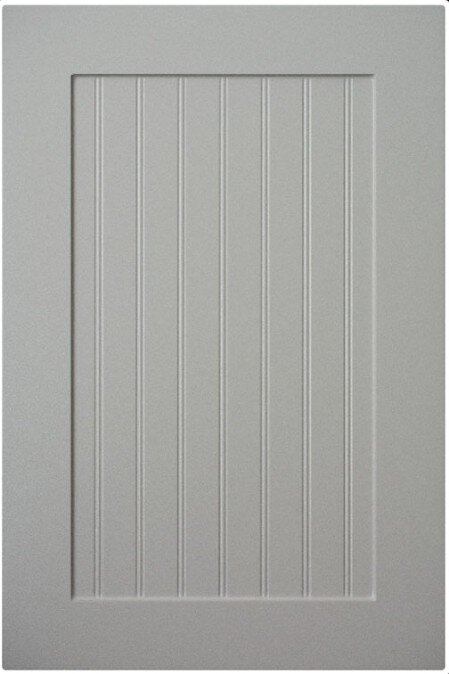 Jefferson Door Design
A true beaded shaker style door. Real rounded upward beads.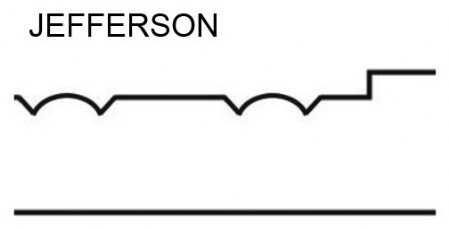 What do you do now?
If you believe you are ready to request a quotation, select the link above to use our on-line form. It has a lot of helpful notes throughout it. And we did design it to look real nice on a PC or laptop, or wide view on a tablet. If you are on a smart phone, it will appear indefinitely long, but it does work on a smart phone.
This page shows all available flat panel designs and corresponding drawer fronts. If you need help measuring, visit out
measuring page
. If you need help deciding if you have
face frame or frameless cabinetry
, visit that page. With Shaker Style Doors you would most commonly have face frame cabinets, they seem to go together. The type of cabinetry you have will affect your
hinge boring choice
and
hinges
, if you are choosing those options.
Note shaker or mission doors come only in a square design. No top arch options at all.
Thus, pick your mission door design. Beaded patterns look incredibly nice is solid tone colors. (Our opinion)

Choose one of the below edge profiles.

You decide on matching flat panel drawer fronts, or slab drawer fronts, or mix them up a bit too, especially on the shorter heights. This is of course if you need drawer fronts. In a kitchen you will. For laundry room cabinets, bathroom cabinets, or other fine furniture, you may not need drawer fronts.

If you need help integrating any frame only or mullion door designs into your upper cabinets, see our mullion cabinet door page. Yes, the flat panel doors can be selected as frame only or with mullions. Though it is not common, sometimes a few showpiece frame only doors are selected with a shaker style kitchen.
You have to have your measurements ready.
Decide on your 3D Laminate color too.

Other options can be decided afterward. Hinge boring does have a charge associated with it, as does finger pulls or anything extra. You can add options or not add options.

The on-line quotation form will help you through it, and it should open in a new tab or window so you can leave it open and flip back and forth between pages in your other tab.

You also have our Contact Us page link and phone number at the top and bottom of all web pages.
Corresponding Drawer Front Diagrams
Click on any of the 6 images below to see larger pictures with descriptive text.
Flat Panel Door and Drawer Fronts - Outside Edge Profiles
This refers to the very perimeter of a door or drawer front. Any door style can be made with any of the following six edge choices.
Door ordering notes:
If you would like a slab drawer front with a corresponding edge to go with your flat panel doors, you can mix it up like that. Many kitchens and bathrooms do not have flat panel matching drawer fronts to the doors. Adding slab fronts is extremely popular, especially for shorter heights that cannot be made in a matching flat panel design. On the quotation / order form, you would request a slab drawer front and denote the same edge as those on the doors, if that is your choice.
Concealed hinge boring
is an option and only done when requested. On these 6 styles, you do not need to specify right or left boring. Top and bottom of each door is identical, they can be flipped for left or right hinging. Beaded styles will have uniform edge spacing on the far left and far right beads for the full width of the door or drawer front.
If you still have questions, you are welcome to
e-mail
or call us. This page is reference for the flat panel door selections (Shaker Style).
When you are ready to view all the

3-D Laminate colors

, go to that page.




We would like to say, Shaker Style Door look fantastic in the solid tone colors. Some woodgrains might become too wild, especially with the bead lines.

Extras like moldings, fillers, and matching wine racks are on their respective pages. Viewable from the text links below or from the Orange Menu Button near the top left of the page.
There are other helpful pages referring to hinges and hinge boring, measuring, and other options.
Brushy Creek Custom Doors web pages: