3D Laminate Raised Panel Cabinet Door Profiles
Brushy Creek Custom Doors section index
Brushy Creek Custom Doors Inside Round Corner Raised Panel Door Profiles
There are 3 types of cabinet doors to select from: Raised Panel, Flat Panel (Shaker), and Slab (flat face).
For explanations and to view your options for
Shaker Style Doors
(flat panel), select that link.
This page will focus on
Raised Panel Doors.
And specifically, raised panel doors with inside round radius corners. What does that mean? Well, the core of the door is MDF (micro density fiberboard). A router will pass around the inside of that core twice to create the raised panel profile. Since it only goes around twice, it cannot cut out the inside corners of the door sharply, thus it leave a rounded corner on the inside frame profile that stretches over to meet the panel profile. Thus you have nice rounded corners which are far easier to clean and give a nice contoured look. One of the 3 profile choices is actually called Contour. That is a very popular design. Quality Doors had it back before 2009, called their C2 pass profile. Woodmont Doors when they offered Thermal Foil had it too. It has been around for a long time.
Because the router only passes around twice to create these inside radius corners, these raised panel designs are less costly. Less work from the machinery, less costly. So when you are on a budget, and you want to have raised panel cabinet doors, this is the page to look on first. The Windsor Design, though it looks like it has a more square inside corner, still has a faintly rounded corner to it.
We will have two additional raised panel door profile selection pages:
Routed Square Inside Corner Raised Panel Doors
and
Raised Panel Doors with Inside Corner Options
. The link with the word Square in it refers to doors where the router passes around more than twice to clean out the inside corners and make them square. These designs are a tinge more expensive, but do offer many more choices. And then the link with the word Options allows you to select a profile design and then choose whether you would like a rounded inside corner, a one-eighth inch radius (less round), or a true square corner.
Despite which Raised Panel option you choose, any of the six edge choices can be applied to any door. Mix and match them as you like and Create the Raised Panel Look you want. Let's get started....
Raised Panel Door and Drawer Fronts - Inside Rounded Corner Panel Profiles
Available in all door styles
: Square, Arch, Cathedral, Half-round, Double Arch, Double Cathedral, Roman Arch.
* Carolina style is not available in the Roman Arch style. It has a tighter 1/16" inside radius corner, almost square, and thus costs a little more than the other 3 choices.
What we show first: A color picture of a door design, and then the black and white diagram showing the specific way the raised panel shape is cut. This applies to doors and drawer fronts both. Note: matching raised panel drawer fronts must be a minimum of 5-1/2" high. Any measurement needed under that will be made as a SLAB drawer front. Standard with a horizontal grain. Vertical grain is your option to select, but horizontal looks better.
Contour Profile Choice
Very similar to the old Quality Doors C2 profile. Simple rounded inside corners, not a lot of flashiness.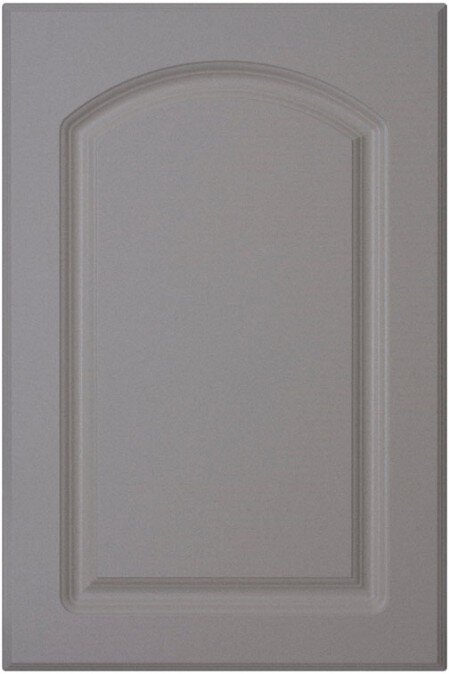 Solo-Cut Profile Choice
Getting a little fancier with more scroll humps.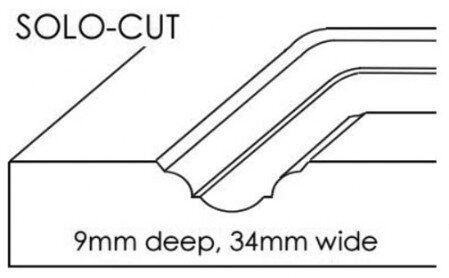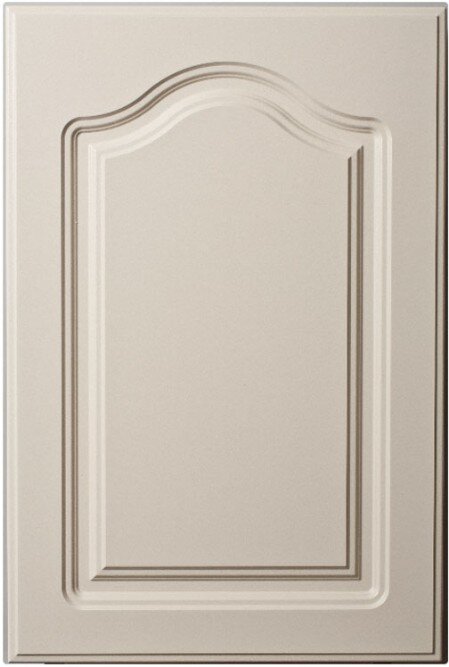 Windsor Profile Choice
Even more fancy with extra ridges.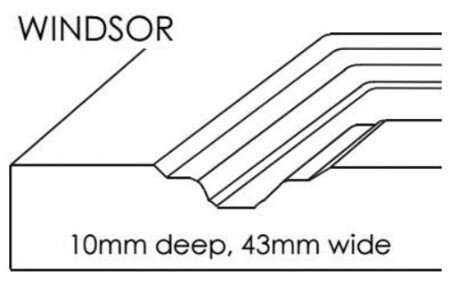 Carolina Profile Choice
Tiny 1/16" inside radius cut. Almost square. A little more costly than the other 3 designs. Not available in the Roman Arch door style.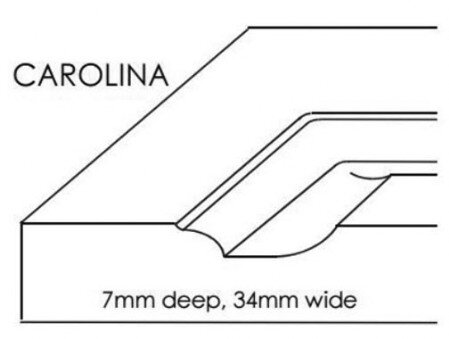 What do you do now?
If you believe you are ready to request a quotation, select the link above to use our on-line form. It has a lot of helpful notes throughout it. And we did design it to look real nice on a PC or laptop, or wide view on a tablet. If you are on a smart phone, it will appear indefinitely long, but it does work on a smart phone.
Note that in the color pictures just above, we show a square design door, an arch design, and then two Cathedral designs. These rounded corner inside radius doors can be cut on any of the door designs shown on the
raised panel door designs
page. With exception of the Carolina not coming in the Roman Arch.
Thus, you pick a door design, and you can mix them. Square design for your base cabinets and one of the arch designs for your upper cabinets. Or make the all square. We do not recommend arch or wavy top doors for your base cabinets. It looks weird.

After selecting your door design, you choose your pass profile.

And choose one of the below edge profiles.
You decide on matching raised panel drawer fronts, or slab drawer fronts, or mix them up a bit too, especially on the shorter heights. This is of course if you need drawer fronts. In a kitchen you will. For laundry room cabinets, bathroom cabinets, or other fine furniture, you may not need drawer fronts.

If you need help integrating any frame only or mullion door designs into your upper cabinets, see our mullion cabinet door page.
You have to have your measurements ready.


Decide on your 3D Laminate color too.

Other options can be decided afterward. Hinge boring does have a charge associated with it, as does finger pulls or anything extra. You can add options or not add options.

The on-line quotation form will help you through it, and it should open in a new tab or window so you can leave it open and flip back and forth between pages in your other tab.

You also have our Contact Us page link and phone number at the top and bottom of all web pages.
Raised Panel Door and Drawer Fronts - Outside Edge Profiles
This refers to the very perimeter of a door or drawer front. Any door style or profile selection can have any of the following six edge choices. Make the doors look the way you would like them to look. And then the same edge is applied to your drawer fronts for continuity. Including standard slab drawer front choices.
Finger pull options
are sometimes requested; diagram is shown lower on that web page.
If you still have questions, you are welcome to
e-mail
or call us. This page is reference for the inside radius raised panel profile selections and edge profile choices.
To see diagrams of the raised panel door styles

, please select that link. Arch, Cathedral, etc.



And then when you are ready to view all the 3-D Laminate colors

, go to that page.




Extras like moldings, fillers, and matching wine racks are on their respective pages. Viewable from the text links below or from the Orange Menu Button near the top left of the page.
There are other helpful pages referring to hinges and hinge boring, measuring, and other options.
Brushy Creek Custom Doors web pages: