Face Frame Cabinets Explained [Cabinet Door Help Page]
Brushy Creek Custom Doors section index
What is Face Frame Cabinetry?
In the US, face frame cabinetry is by far the more popular choices vs. frameless cabinets.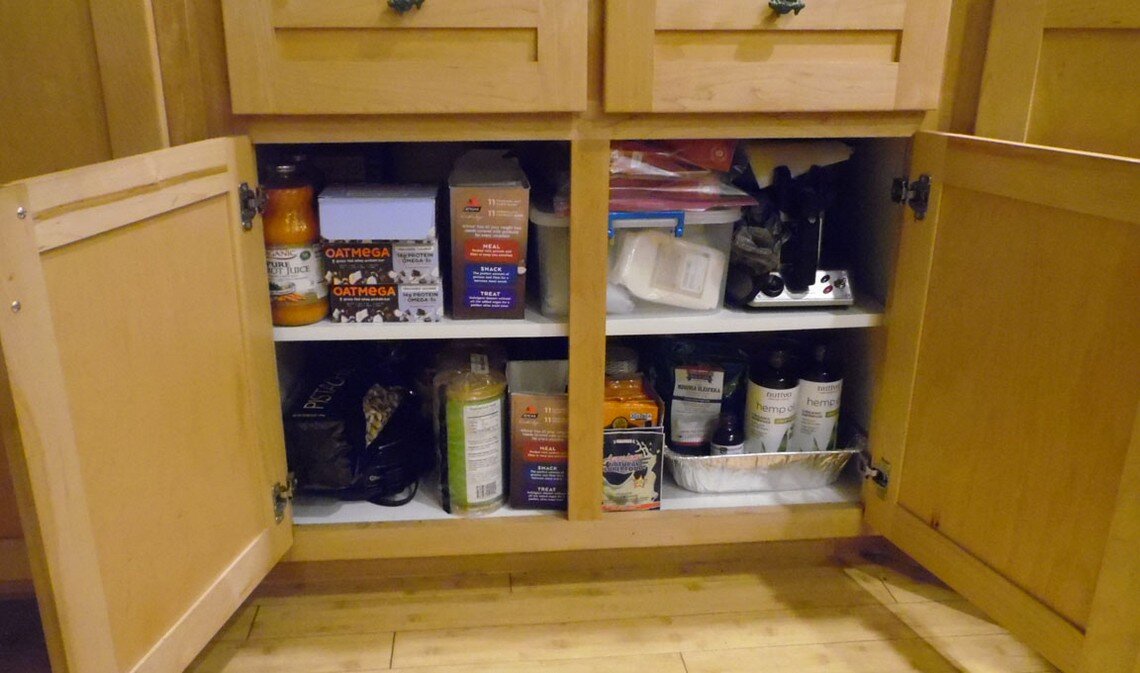 The above is a face frame cabinet. See the white bottom to the cabinet inside. That is the base. The inside left and right wall are also white melamine on the inside. And then there is a maple frame attached to the front of the cabinet box. This cabinet on the inside is one larger opening. But the face frame is constructed with a center stile and thus each door covers its separate opening. The concealed hinges in the backs of the doors are concealed face frame hinges, one-piece. The hinge cup portion fits into the 35mm hole in the door, and then the mounting plate portion attaches to the edge of the face frame with just one screw. A big fat screw that you should always predrill your hole for so you do not split your face frames.
So face frame cabinetry basically has square and rectangular frames attached to the front of the cabinet boxes. Frameless cabinets would be just the cabinet box, and the hinge mounting plates then attach to the cabinet side walls. The face frames in the above picture are 1-1/2" wide. So when the doors overlay the face frame by 1/2" on each opening, it also leaves a nice 1/2" gap between the doors and drawer fronts and allows you to see a fair amount of the face frame. Face frame cabinetry adds to the decorativeness of your kitchen. When you have nice woodgrain doors, and they match the face frame, that is a nice look to your kitchen.
The below two black and white diagrams will show a frameless cabinet box and a face frame box like the one above.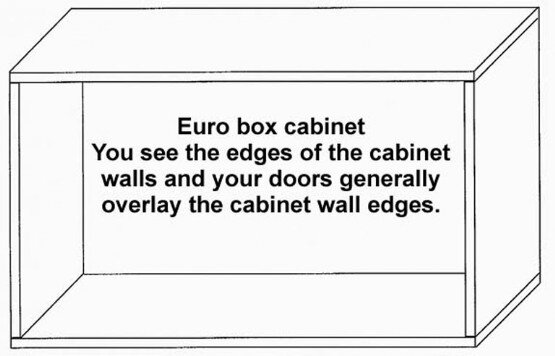 Face frames come in all kinds of different sizes. 1-1/2" is probably the most popular for a few reasons. A) It gives an easy to follow approach for 1/2" overlay doors and drawer fronts with maintaining an easy 1/2" gap between sets of doors and drawer fronts. It provides for easy math. And the look is nice. B) It is less expensive than wider board face frames because less wood is used. C) When face frames become too wide and you keep to smaller overlays on your doors, it can make your doors look smaller. And that is not a nice look. D) Wider face frames create a wider lip over your cabinet boxes, thus bringing down the overall opening size in which you can get items in and out of your cabinets.
So if building a new kitchen right now, and you have an option for face frames, ask for them to be 1-1/2" and preferrably no greater than 2-1/2". When you start going into the 3" and 4" frames, it may sound big and bold, but the look is diminished - in my opinion.
Face Frames are generally made of solid wood. Maple is very popular because it is very strong. And it sands smooth, and it is a light wood that stains well in all kinds of colors. Cherry, Oak, and Hickory are also popular for kitchen cabinets. Walnut and Mahogany are sometimes used but not very popular. Birch looks like Maple, but also is not popular. Maple and Red Oak by far are the two most popular choices.
For all white kitchens, face frames are painted white. Usually more modern white kitchens are going to be Eurobox kitchens, frameless cabinets. You see a wall of cabinet doors with very tiny gaps between them and no face frame. There are so many things done today.
This page was just a quick reference to define the difference between face frame and frameless cabinetry. The doors you will use on either are the same. The mounting methods are the same or similar. Hinges do change. And the looks are different. To review how to
measure for cabinet doors
, please see that web page.
Brushy Creek Custom Doors web pages: