3D Laminate Molding from Brushy Creek Custom Doors
Brushy Creek Custom Doors section index
Brushy Creek Custom Doors Molding Selections
All the 3D Laminate colors can be applied to all designs of molding. There are several crown molding choices. And then some base moldings, scribes, and various corner style molding pieces. All molding sticks come in 8' lengths only.
Crown molding is a nice way to give the tops of your upper cabinets a finished look. Tall upper cabinets that meet up to the ceiling will generally have some type of crown molding to mask the seam where they meet the ceiling, or almost meet the ceiling. The grain on molding pieces will run with the length of the molding, when selecting woodgrain patterns.
Here are drawings of the various molding selections. After that, we will show color views of each molding style. When ordering molding, you will note their descriptive names such as: Cove Crown or 1-1/2" Double Beaded, etc.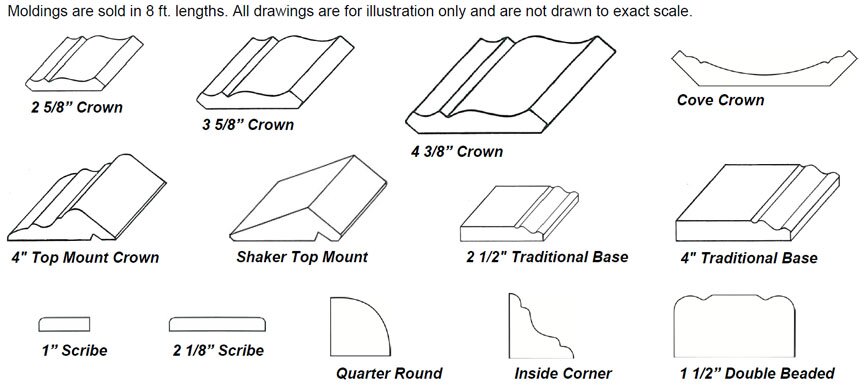 Now the individual molding photos
For the 1" Scribe, that is basically half of the 2-1/8" Scribe. The 1" Scribe will have the one rounded edge and the other edge will be square, it is as if you cut the 2-1/8" in half lengthwise. All viewable faces of all moldings will be wrapped in the thermal foil.
Brushy Creek Custom Doors web pages: