3D Laminate Kitchen Cabinet Door Design Styles
Brushy Creek Custom Doors section index
Brushy Creek Custom Doors Raised Panel Door Styles
The term door style or door design refers to a square top door or arch top door. On the 3 Raised Panel Profile pages:
Round Inside Corner
,
Routed Square Inside Corner
, and
Inside Corner Cuts with Options
, the door
profile
refers to the way the contour is cut coming down from the inside frame edge and over and up to the panel. There are many profile choices, approx. 18 of them. And then for the 3 door designs, all come in all the profile choices. The raised panel door designs are what are shown on this page.
The Square, Arch, and Cathedral style doors can be made with any profile choice.
You have two options for drawer fronts, a matching raised panel front with reduced rails on the top and bottom. Or a slab drawer front, which you would order with the same edge profile. Edge profiles are shown on every profiles page. Standard slab doors and drawer fronts are shown on their own page. Basically if you are choosing to order a slab drawer front with your raised panel doors, there is not a lot to see. On the order form, you would just select slab and with the matching edge.
All raised panel doors will automatically come with vertical grain for 3D Laminates in the woodgrain finishes. Slab and raised panel drawer fronts will come with a horizontal grain by default. On a slab drawer front, you should definitely go with horizontal grain when mixing with raised panel doors, it will look better that way. On the raised panel drawer front, it will still look better with horizontal grain, BUT, if you would like it to be vertical grain, you can request it that way. On 3D Laminate colors without grain, such as the solid colors, there is no grain pattern to consider.
Raised Panel Door Styles
Click on any image below to enlarge it and see the name of the door style.
Your two Drawer Front choices
The raised panel front will have equal size right and left rails to correspond with the door rails. This way when a drawer front is directly above a door, the rails are uniform going up. And then, the top and bottom rails of the drawer front are reduced rail, giving the drawer front a nice slender look instead of a bulkier look. Most drawer fronts are in the 5-1/2" to 7" height range, some taller in drawer banks, and some taller under cook tops. Slender drawer fronts above base cabinet doors have a nicer look to them.
What happens if you have really tall doors? Tall doors such as pantry doors in your kitchen, or linen doors in a hallway or bathroom? You can have a one-panel design, a really tall panel. Or you can divide it into a 2-panel door. The four frame rails would be identical to your other doors, and the midrail dividing them would be a 3" panel divider. Profile and edge profile choices would be ordered to match your other doors. Taller doors are used for wardrobe closets, sometimes they are in walk-in closets. Living room entertainment centers may have a pair as a focal point, or split in pairs across a very wide entertainment wall. There are many applications that you will find them in. So for any much taller doors, generally something greater than 54 to 56" up to 96" tall, you might want to consider them as double panel doors. See this spec diagram.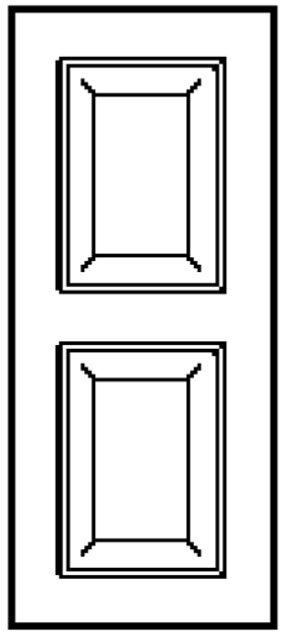 Finger Pulls
A finger pull is a short groove routered in the top or the bottom of a door to give you a convenient spot to fit your fingers in and pull the door open. Drawer fronts can also have finger pulls. Sometimes you do not want to add knobs or cabinet pulls to the face of a door or drawer front. Finger pulls are a hidden way to open doors without having to pinch the edge of a door.
The specifications for finger pulls are:
Choose 4" or 6" wide, the 6" is suggested

They are 7/16" high and 3/16" deep into the edge.

They will be centered in the width of the door or drawer front

They will be on top or bottom only. So on upper cabinet doors, you would order them on the bottom of a door, and on your base cabinets, you order them on the top of a door. On a drawer front, you would most likely request them on the bottom - because, gives you an easier grab space without potentially banging your fingers or knuckles on the underside of the countertop.

Custom sizing and placement is possible at an extra charge.

If ordering cabinet doors bored for concealed hinges, very important to state left or right boring, and then the finger pull on top or bottom.

Finger pulls will be wrapped fully in the 3-D laminate, they will look finished. They are an option, not a super popular option because most homeowners do like adding decorative knobs and pulls onto their kitchen and bathroom doors. And we have some nice
cabinet knob and drawer pull choices
.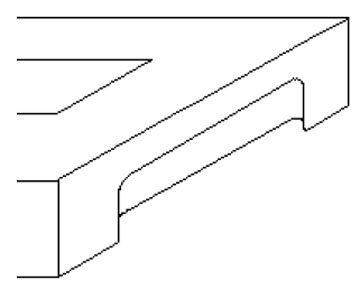 If you still have questions, you are welcome to e-mail or call us. This page is meant to outline the raised panel door styles. And drawer front choices.
There are other helpful pages referring to hinges, measuring, and other accessories. Links are at the bottom of each Brushy Creek Custom Doors page, or in our menu at the top of every page.
Brushy Creek Custom Doors web pages: